Large media contingent watched David Beckham's first training session with PSG
David Beckham has trained for the first time with his new Paris Saint-Germain team mates at their Camp des Loges base.
Last Updated: 13/02/13 10:10pm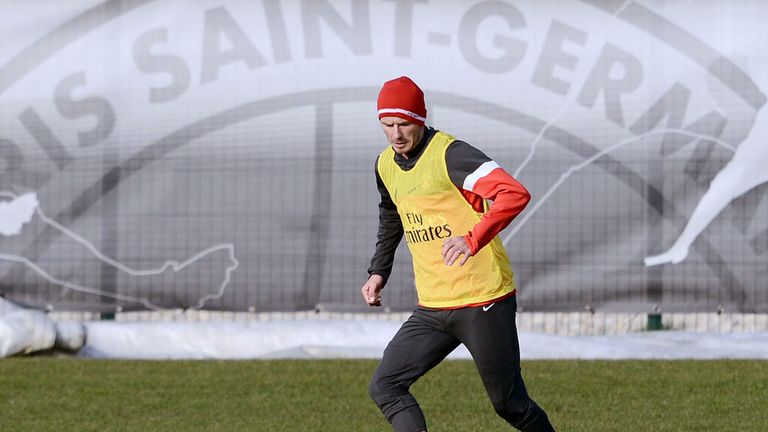 The 37-year-old former England skipper watched his new side triumph at Valencia in the first leg of their Champions League tie on Tuesday night.
And he has now made his first appearance at the club's training camp in the western suburbs of the French capital.
One hundred journalists from around the world were allowed to attend the session and camera crews packed a balcony overlooking the complex while Beckham jogged and participated in light training drills.
The former Manchester United, Real Madrid and LA Galaxy midfielder also did some sprint work in a sand pit, in a drill designed to improve stamina, resistance and leg strength.
Fans were not allowed inside the training area to watch the hour-long session but around 200 of them waited outside, despite the cold weather, hoping for a glimpse of Beckham, who is bidding to win a championship in a fourth different country.
PSG currently lead Ligue 1 by six points, having been in excellent form since the winter break.
They are away at Sochaux on Sunday and the match is a sell-out, with the media seats oversubscribed, due to the belief that Beckham may make his first appearance.
However, the French sports daily L'Equipe has speculated that Beckham may be more likely to get his debut against Marseille in the league on 24 February or in the Coupe de France three days later.