Ligue 1: PSG president expects Carlo Ancelotti and Leonardo to stay at club
PSG president Nasser al-Khelaifi expects coach Carlo Ancelotti and sporting director Leonardo to remain at the club.
Last Updated: 09/03/13 10:54am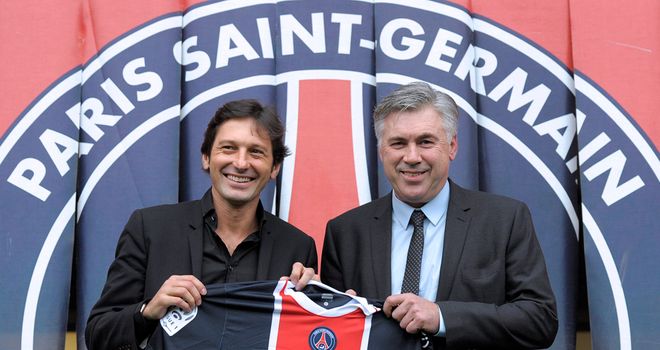 Speculation continues around the the big-spending Ligue 1 leaders with the likes of Jose Mourinho and Arsene Wenger linked to the club, while Leonardo was tipped to head back to Italy after reports claimed the Qatari ownership were happy to see him go.
But in an interview on Satuday with Le Parisien, the club's president said the owners were happy with the progress they have seen.
Asked about Ancelotti's future, he said: "If he wants to stay, he will still be here. He has done an excellent job. This has sometimes been difficult because he is under pressure, as in all professions, but he is doing well.
"Carlo is one of the best coaches in the world, if not the best.
"I think he will continue, but at the end of the season we will assess everything. We will also assess my performance. This is normal, it happens at every club.
"We are in the quarter-finals of the Coupe de France, the Champions League and we are leading the league. What more can you ask for?"
Asked directly about the links to Mourinho and Wenger, he added: "Jose Mourinho, I do not know where he is in relation to his contract, but it is not my business. I respect him as a coach and as a person, just as I do Arsene Wenger."
Al-Khelaifi denied there was any form of rift with Leonardo, who he also expects to stay.
"Yes, he will stay," he said. "I have a very good relationship with him. People think we have a problem. I do not know where it is coming from but it makes me laugh.
"I hear people say, 'From Doha...' 'The Doha sources say there is a problem with Leo' and so on. I'd like to help you but this is not true. The official voice of Qatar, it's me. It is necessary that everyone understands, Leo has done a good job."
Matuidi
Al-Khelaifi also revealed that he would not even contemplate letting midfielder Blaise Matuidi leave - after he was linked with a move to England.
"Matuidi will never leave PSG, he is fantastic, he is the quickest defensive midfielder in Europe," he said.
"He is always available and generous in his football and he is a fantastic person. He played 39 games so far in the season at the same level. He is now the best midfielder in France no doubt about that."