Zlatan Ibrahimovic hails influence of David Beckham since his arrival at PSG
Paris Saint-Germain's Zlatan Ibrahimovic feels David Beckham has taken on an important leadership role at the club.
Last Updated: 09/04/13 5:42pm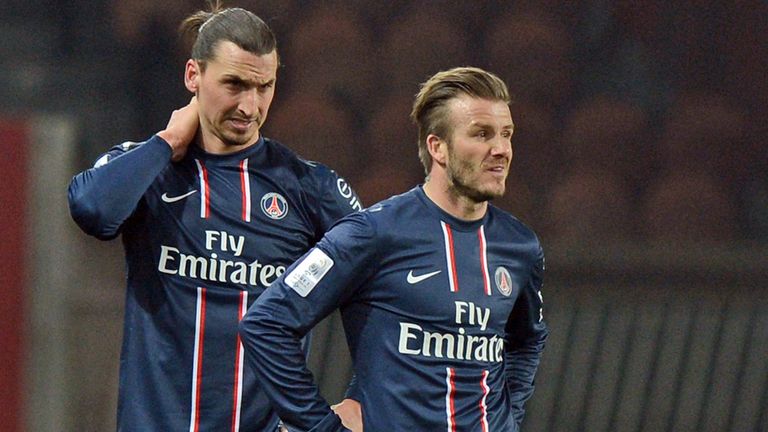 Having left the Los Angeles Galaxy, Beckham signed a five-month contract with PSG in January and has since made eight appearances for the Qatari-owned outfit, including a start in their 2-2 Champions League quarter-final first leg against Barcelona in Paris last week.
Speaking about the 37-year-old former Manchester United, Real Madrid and AC Milan midfielder ahead of Wednesday's second leg, Ibrahimovic told CNN: "I think he has been very important for us.
"Because in the situation that we are in now, the club has been changing from a normal club to a top club, and Beckham gives you some kind of confidence.
"He has the responsibility, on the pitch and off the pitch, to lead the way for these two months (which) is very important.
"He has a quality, a big quality; he has a touch that I haven't seen many players have. And he is very elegant when he plays."
Beckham and Ibrahimovic are the two most high-profile among a number of notable signings PSG have made over the past couple of years following their Qatari takeover.
And Ibrahimovic, a former Barcelona player who joined the Ligue 1 leaders from AC Milan last summer, admits he is glad the ex-England captain is now helping share the spotlight.
"I think it's good for me that Beckham came so he gets more attention than me, so they leave me a little bit alone," Sweden international Ibrahimovic said.
"When I came here, everybody said 'don't worry, as a football player you can walk in the city and nobody will disturb you. Because as a football player here, it is not like it is in Italy'.
"But since the day, I came here it's been totally stressful. Everybody is chasing me with their scooters; I don't even walk in the streets.
"When David came, he got more of the media attraction, so that's good because he takes care of that and I can play football, focus on football."