Javier Pastore says David Beckham is inspiring Paris St Germain belief
Javier Pastore says veteran team-mate David Beckham has been drumming belief into PSG that they can overcome Barcelona.
Last Updated: 10/04/13 9:46pm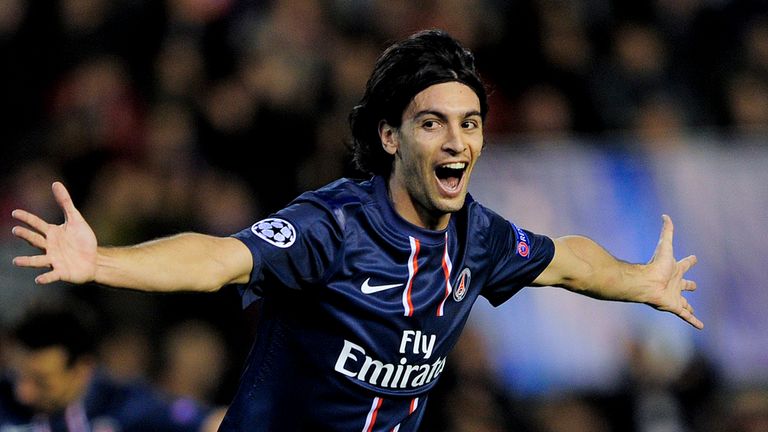 The UEFA Champions League quarter-final tie is finely poised heading into Wednesday's second leg at Camp Nou after the opening leg in Paris ended 2-2.
Argentina international Pastore says Beckham has compared their situation to that of his former club Manchester United back in 1999, when they drew the first leg of their semi-final tie with Juventus 1-1 at Old Trafford before coming back from conceding two early goals to win 3-2 in Turin.
Pastore says the former England captain is confident PSG can pull off a similar feat in Spain, despite Barca's away goal advantage.
"We know that after scoring two away goals, Europe expects Barcelona to progress," the 23-year-old told The Sun.
"Of course they are the best team in Europe - but we want to show them that football is not always that simple.
"David has been telling us that we have everything it takes to progress - and that we just need to believe that anything is possible. He has achieved everything and played in every big game there is to play in.
"He has been telling us a similar situation when Manchester United drew at home with a great Juventus team many years ago and needed to go and win in Italy.
"It was a special Juventus team with Zinedine Zidane, Edgar Davids, Pippo Inzaghi, Didier Deschamps and many more. David said that Manchester went 2-0 down early - but they had the belief and went on to win the game and then the Champions League."
Pastore added: "David tells the stories to create belief in the team and it works.
"It is so funny when he tells his stories in the dressing room. I look around and all the players are silent just listening to everything he has to say - it is like a teacher reading to his kids in class."
Dangerous
Barcelona's star man Lionel Messi remains a doubt for Wednesday night's clash with a hamstring injury suffered during the first leg but Pastore insists the hosts will be dangerous whether his fellow Argentinian plays or not.
He added: "With or without Messi it doesn't matter, we know Barcelona will put out a great team.
"What we have to focus on is our game and we know we have the players to create another big upset like David and Manchester United did all those years ago."