What Zlatan said
"One thing is for sure, a World Cup without me is nothing to watch." Love or loath him, there's no question that Zlatan Ibrahimovic is one of the world's most quotable footballers. We round-up the best of his verbal volleys after he signed off his World Cup dream with a trademark quip...
Last Updated: 02/12/13 2:03pm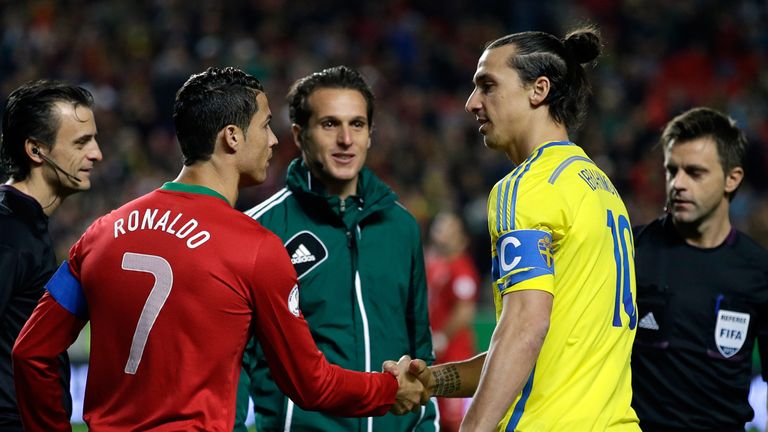 "Arsene gave me the famous red and white jersey - the No 9 shirt with Ibrahimovic on it and I was so pleased I even posed for a picture wearing it. He never actually made me a serious offer, it was more, 'I want to see how good you are, what kind of player you are. Have a trial'. I couldn't believe it. I was like, 'No way, Zlatan doesn't do auditions.'" - When 'on trial' at Arsenal as a youngster at Malmo.
"Zlatan style." - When asked to describe his style of play.
"Jose Mourinho is a big star...He's cool. The first time he met [my wife] he whispered to her: 'Helena, you have only one mission. Feed Zlatan, let him sleep, keep him happy!' The guy says what he wants. I like him." - Two egos, one love.
"Mourinho is Guardiola's opposite. If Mourinho brightens up the room, Guardiola pulls down the curtains and I guessed that Guardiola now tried to measure himself with him." - Less enamored with Pep.
"You bought a Ferrari but you drive it like a Fiat." - On his time at Barcelona.
"I got the impression that Barcelona was a little like being back at Ajax, it was like being back at school. None of the lads acted like superstars, which was strange. Messi, Xavi, Iniesta, the whole gang - they were like schoolboys. The best footballers in the world stood there with their heads bowed, and I didn't understand any of it. It was ridiculous." - It was never going to work, was it?
"You haven't got any balls!' and worse than that I added, 'You're ******** yourself in front of Mourinho. You can go to hell!' I completely lost it, and you might have expected Guardiola to say a few words in response, but he's a spineless coward." - Guess that's cleared that one up.
"Well...I don't know... you'll have to ask your wife about that." - Zlatan's response to a journalist's question over scratches on his face.
"Come over to my house baby, and bring your sister. I'll show you who's gay!" - A similarly subtle answer to a female reporter's enquiry over his sexuality.
"What Carew does with a football, I can do with an orange." Zinged...!
"An injured Zlatan is a pretty serious thing for any team." - Ibrahimovic on Ibrahimovic.
"Nothing. She already has Zlatan." - When asked what he buys his wife for her birthday.
"It was the fault of David Trezeguet, who made me do one drink of vodka after another. I slept in the bathtub. Now I hold my vodka much better." - On Juventus' title celebrations in 2005.
"Messi's a natural, whereas Cristiano is a product of training." - Debate over.
"First I went left, he did too. Then I went right, and he did too. Then I went left again and he went to buy a hot dog." - Stephane Henchoz asks for extra mustard.
"We are looking for an apartment, if we do not find anything, then we will just buy a hotel." - Zlatan doesn't need Kirstie and Phil.