Transfer news: Newcastle boss Alan Pardew warns Arsenal and PSG off Yohan Cabaye
Newcastle boss Alan Pardew has warned clubs off making a move for Yohan Cabaye, saying they have no plans to sell him.
Last Updated: 28/12/13 12:36pm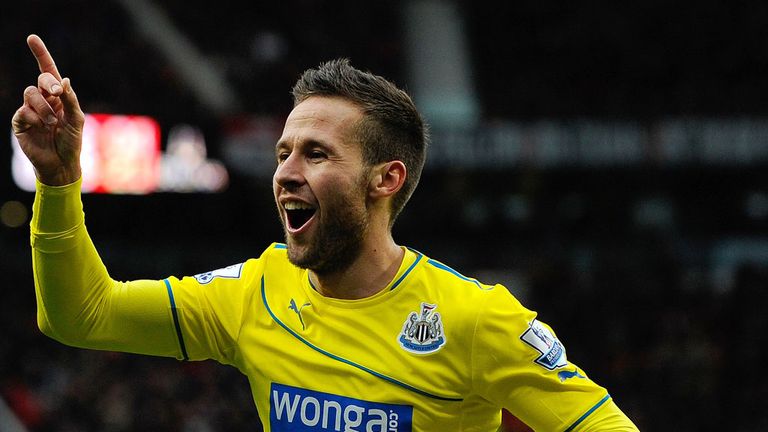 Cabaye was linked with a move to Arsenal in the summer and reports have claimed that Arsene Wenger's side may rekindle their interest in the Frenchman in the January transfer window.
Big-spending Paris Saint-Germain are also thought to be keeping tabs on Cabaye, with reports suggesting they are lining up a £22million bid for the 27-year-old.
Pardew is determined to keep Cabaye at St James' Park and believes Newcastle did better business than Arsenal in keeping Cabaye with Wenger then splashing out £42.5million on Mesut Ozil.
"I've seen £22million mentioned as the price for Cabaye, but it isn't our price. We don't want to sell him, of course we don't," said Pardew.
"He is the main man here and he's got the platform to be the main man at a big club and you don't get always get that.
"He should savour that and take it all the way to France and beyond to the World Cup, because if he stays where is now he's going to be a major influence at the World Cup, I think.
"It's not strange that Arsenal were interested in Yohan but in the end they went with Ozil.
"That's been particularly good business for them, but I think the better piece of business was us keeping Yohan Cabaye. I'm only focused on my players."
Meanwhile, Pardew admits they may have to re-evaluate their aims for the season if they manage to beat league leaders Arsenal on Sunday.
Newcastle have won seven of their last nine games and have already beaten Chelsea and Manchester United this term - and Pardew is confident they will give Arsenal a run for their money at St James' Park.
"I'd like to think that we'll run them close and if we can beat them then we'll have to seriously look at our aspirations for the year because we've obviously beaten some good teams leading up to this.
"Arsenal have been the best team this season, I don't think anyone will argue with that.
"It will certainly tell us a lot about how good we are if we can beat them, especially after the result against Stoke. They had a terrific result against West Ham and if you can beat one of the top teams like Arsenal, it's really going to put us in good shape at the top of the league.
"It would tick a big box for us, but having said that, if we lose the game, that wouldn't dampen our aspirations either.
"I'd like to think the game is going to be an even one, but they are the type of team that can unravel you.
"We need to be on our guard about that, but we will also going out there trying to make sure we win the game."