Premier League: Chelsea winger Eden Hazard wants to be more decisive
Eden Hazard has said that his Chelsea team-mate Samuel Eto'o believes he can be one of the best players in the world.
By Kristof Terreur
Last Updated: 25/03/14 2:09pm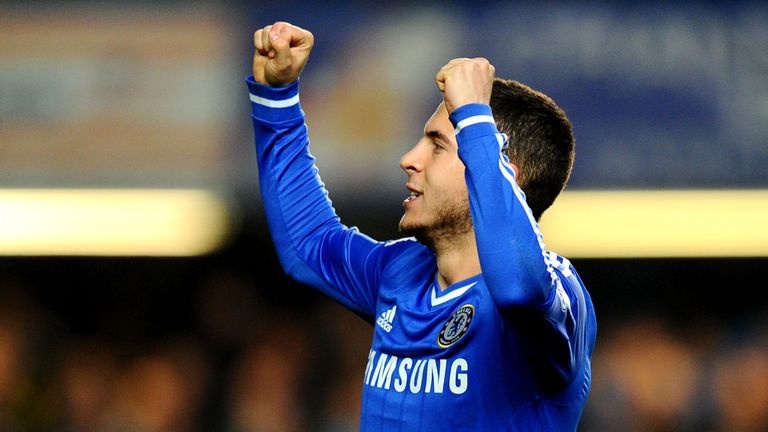 Hazard, who joined the Blues from Lille in the summer of 2012, has been a key player in the London club's challenge for the Premier League title this season.
The 23-year-old has scored 14 goals and provided seven assists in 31 league appearances, as Jose Mourinho's side currently lead the table by four points.
"Eto'o tells me every day that I can be one of world's best players," he told La Derniere Heure. "Before every game he tells me I have to make the difference.
"He tells me: 'You don't leave the stadium without scoring a goal.' After a while you understand that.
"A few years ago, football was just football for me. If I didn't score, I didn't care too much, as long as we won the game.
"Now I want to score in every game and be decisive."
Chelsea will take on Paris Saint-Germain in the quarter-finals of the Champions League, the first leg of which will be played in France next week.
Hazard admits that winning against PSG will not be easy, but insists that he is looking forward to playing against the Ligue 1 champions.
"As a football player, you want to play against teams like PSG," he said.
"They have a good squad, create lots of chances and have technical players.
"You have Zlatan Ibrahimovic, Thiago Motta, Yohan Cabaye and Edinson Cavani.
"But also in defence they are strong. It will be my first game against Zlatan Ibrahimovic. Or not... I have already beaten him on the Playstation."