Ligue 1: PSG president Nasser Al-Khelaifi looking to tie down Laurent Blanc
Paris Saint-Germain president Nasser Al-Khelaifi has revealed he is looking to extend coach Laurent Blanc's contract.
By Patrick Haond
Last Updated: 04/04/14 4:16pm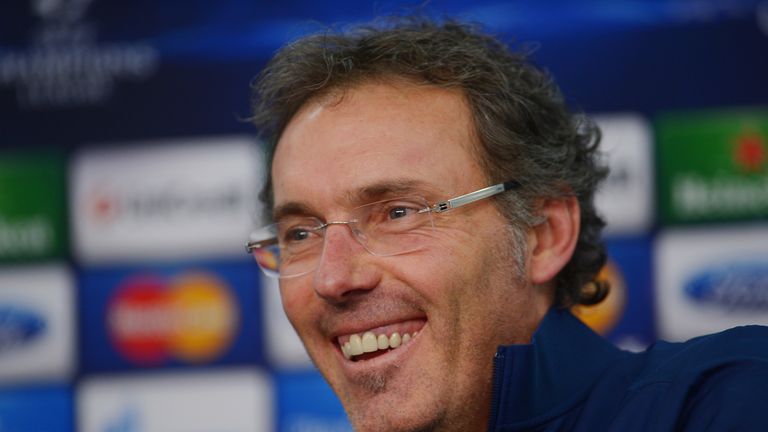 The former France national team boss is already under contract until 2015, but the Qatari supremo insists he will secure the services of Blanc beyond his current deal.
"An extension for Laurent Blanc? It will surely happen this week," Al-Khelaifi told radio station RMC.
"He will remain at PSG. We want him to stay and he wants to stay.
"I believe everyone is satisfied with the job done by the technical staff. We play better football nowadays.
"I have huge respect for Carlo Ancelotti who is a great coach, but Laurent Blanc changed the style and quality of the game. I am very happy. I can confirm it: Laurent Blanc will stay at PSG."
Blanc is expected to be offered a one-year extension, with the option for another year.
Meanwhile, PSG's general manager Jean-Claude Blanc reacted to growing rumours that UEFA could investigate the sponsorship from the Qatar Tourism Authority (QTA), which is worth an estimated €200million in income to the French giants.
"First, it is surprising there is rumoured information while the whole process is supposed to be very confidential," Blanc told L'Equipe.
"We already met the UEFA committee twice, in November and February. Each time we explained a new concept, nation branding, which means promotion of a country in sport.
"People can question it because it is the very first contract of that kind and because the amount is important. In 10 years' time, Qatar has a real willing to use tourism as a major element in its economy. PSG is part of that strategy."