Manchester City offered settlements for breaching financial fair play rules
Man City and Paris Saint-Germain have been offered settlements for breaching financial fair play rules.
Last Updated: 29/04/14 10:28am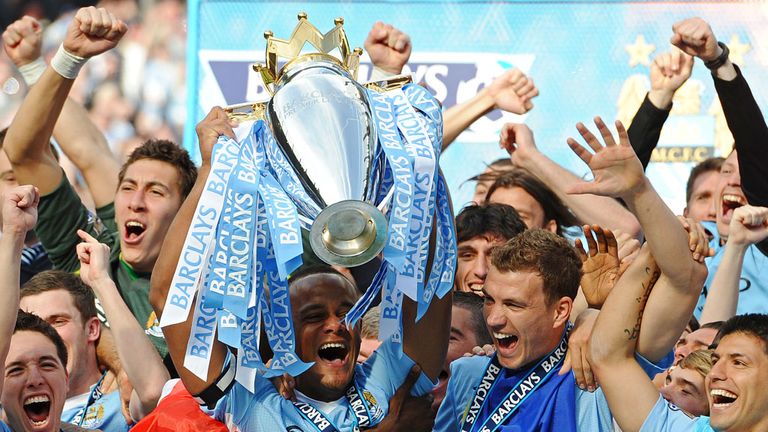 It was revealed on Monday afternoon that UEFA's club financial control board had made offers to the English and French clubs, along with several others, deemed to have breached the rules ahead of its meeting on Thursday.
There are fewer than 20 clubs involved in total, according to reports, and they can either accept the offer of the sanctions, which could range from a reprimand to a fine up to restrictions on the squad for European competition next season, or try to negotiate a lesser punishment.
If no agreement is reached, then the outstanding cases will go to an adjudicatory panel for a final decision.
European football's governing body fears spiralling costs could be the death of some clubs who are spending beyond their means and it is desperate to give the sport more stability.
UEFA president Michel Platini also wants to stamp out "financial doping", suggesting the extortionate expenditure conducted by the bigger clubs is ruining football.
City, owned by the Abu Dhabi United Group, which is a company owned by Sheikh Mansour bin Zayed al-Nahyan, have been busy in the transfer market in recent seasons, as have French club PSG.
UEFA is making its first FFP ruling based on club accounts from the past two seasons - 2011-12 and 2012-13.
It is not known what settlements each individual club has been offered but UEFA could reveal the outcomes on Friday.
The most powerful sanction, that of being excluded from European competition, is not expected to be used against any of the clubs.
UEFA and Manchester City would not comment, but City boss Manuel Pellegrini said last week there had never been any concern that the club would be excluded from the Champions League for breaking FFP rules.
City have been working closely with UEFA to try to ensure they comply with spending rules, which limit losses to 45million euros over the last two years.
Pellegrini said: "I felt here inside the club nobody feared we could be suspended for next year."
Platini said in a French newspaper last week he did not think any of the clubs who breached rules will be banned from European competition next season.
Qatar-owned PSG have been the club under most scrutiny after they wiped out their losses with a huge and back-dated sponsorship deal with the Qatar Tourist Authority.
Platini said he was unsure if that "innovative" sponsorship deal with a related party played by the rules.
He said: "I will say simply that Paris St Germain's financial model is distinctive and atypical. That image contract with the QTA, the tourism office of Qatar, is innovative, that's all I can say.
"But is it viable? Is the value of the contract correct? These are questions that the experts must decide."