Ligue 1: PSG president Nasser al-Khelaifi says the club will keep spending
PSG president Nasser al-Khelaifi has said UEFA's financial fair play ruling will have no impact on the way they operate.
Last Updated: 17/05/14 9:05pm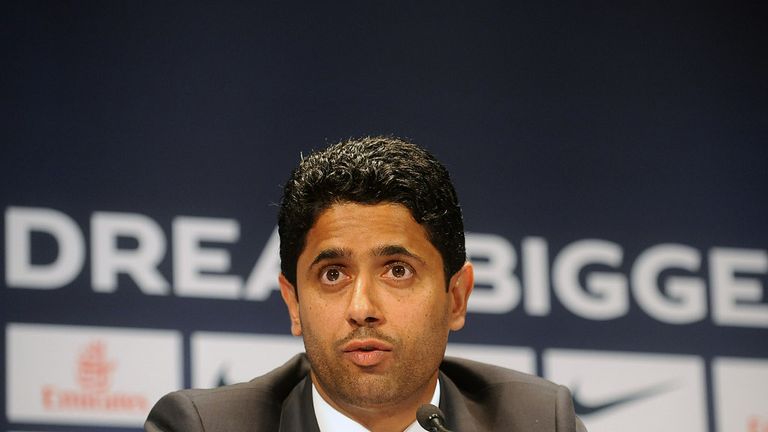 PSG were, alongside Manchester City, handed a 60million euro fine (of which 40million euros is suspended), limitations on next season's Champions League squad, and a transfer spending cap after being found to be in breach of FFP regulations.
However, after several summers of huge spending at the Parc des Princes, Al-Khelaifi claims the penalties will do nothing to stop him signing the players he wants for the club.
"The players that I want, I will have," he said in comments reported by L'Equipe ahead of their final match of the Ligue 1 season at home to Montpellier.
"This changes nothing of the project, the motivation of the club and the players.
We respect and accept this decision. But nothing and no one will stop us, we always dream bigger.
"We had a plan over five years when we bought the club and that will not change. We have already invested a lot in the last three years and we will continue."
PSG fell foul of the FFP regulations due to the out-sized nature of their 200million euro sponsorship deal with the Qatar Tourism Authority, seen as a linked organisation as they are owned by a Qatari sovereign wealth fund.
However, Al-Khelaifi defended the deal.
"Paris deserves a big club which deserves big sponsors," he said. "It is not very difficult, an I expect to see our revenues grow."
Asked about their future recruitment plans, he added: "To be clear, the players that I want, I will have. We have options and perhaps there will be signings this summer."
Al-Khelaifi played down speculation linking PSG with Juventus' young France midfielder Paul Pogba while also saying he did not expect any players to leave.
"Pogba is a great player, he is the future of the France team. But his is not the profile we are looking at for PSG."
There has been speculation in recent days that Leonardo could return to the club as sporting director, a year after he was forced out having received a lengthy ban for pushing a referee.
However, Al-Khelaifi said: "He did a great job, he protected the club, sometimes at the expense of his own interests. I thank him. We shall see but to be honest right now there is no urgency to have a sporting director.
"Anything is possible in football, but honestly, there is no agreement with Leo."