Lyon coach Remi Garde thinks PSG should come out on top in Ligue 1 this season
Lyon coach Remi Garde is dreaming of winning the Ligue 1 title but thinks PSG should come out on top this season.
Last Updated: 07/12/12 9:02am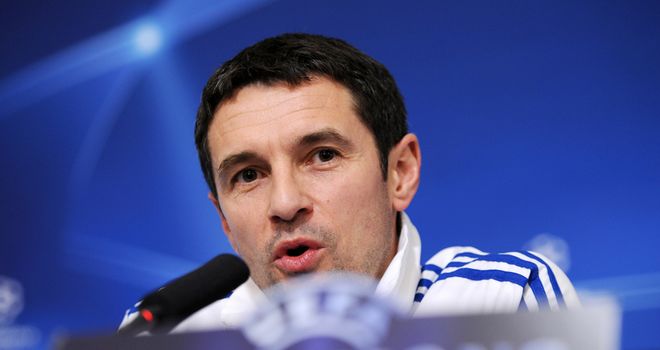 The big-spending capital side began the season well but have picked up only four points from their last five games and have slipped five points behind leaders Lyon.
Garde said on the Ligue 1 website: "Our position is satisfactory but precarious. The title makes everybody dream. I dream of winning the title.
"I dream of the title every night when I'm going to sleep, and I hope it's the same for my players. But dreaming of something doesn't mean we've become big-headed and that it will come easily to us.
"It depends on PSG. In fact, it depends only on PSG. They should be far out in front, and it's not our five-point advantage over them that makes us safe from a comeback from them."
Lyon have won five of their last seven league games and will look to maintain their advantage in Sunday's Rhone derby against third-placed Saint Etienne.
Les Gones have had no shortage of success since the turn of the millennium, but their Coupe de France victory last season ended a four-year spell without a trophy.
Garde can sense the improvement in his side, and he said: "The team is better balanced, especially in midfield.
"Last season I tried almost everything, but more often than not we were playing 4-2-4. That system allowed us to get some good results, but not to sustain a run of form.
"Also, the dressing room is much better this season. There's a universal team spirit in the squad. The dressing room needed to regenerate after three seasons of failure.
"It's difficult to be together on a daily basis when you've got the label of 'the squad that won nothing'. Maybe some players took a year to realise we'd reached a turning point."
Second-placed Marseille, who sit two points behind Lyon, are also in action on Sunday against Lorient while Carlo Ancelotti's PSG host Evian and Valenciennes in fifth travel to bottom side Nancy.
They have been cut adrift along with Troyes, who also have only eight points from 15 games and face Nice.
The other side in the bottom three heading into the weekend, Sochaux, host Lille while, at the other end of the table, sixth-placed Bordeaux meet Reims and Rennes in seventh face Brest.
Struggling champions Montpellier host Ajaccio on Saturday and the weekend kicks off tomorrow with eighth-placed Toulouse taking on Ajaccio's Corsican rivals Bastia.
Toulouse ended a three-match losing run against Lyon two weeks ago but then lost again to Lorient last week, which frustrated coach Alain Casanova.
He told www.tfc.info: "I expected better after what we did against Lyon. But we are a young team that lacks a bit of maturity. If we want to have a good season, we will have to show more consistency."