Mourinho backing FFP
Real Madrid coach Jose Mourinho insists that he is behind UEFA's Financial Fair Play rules.
By Lucas Brown
Last Updated: 06/09/12 1:52pm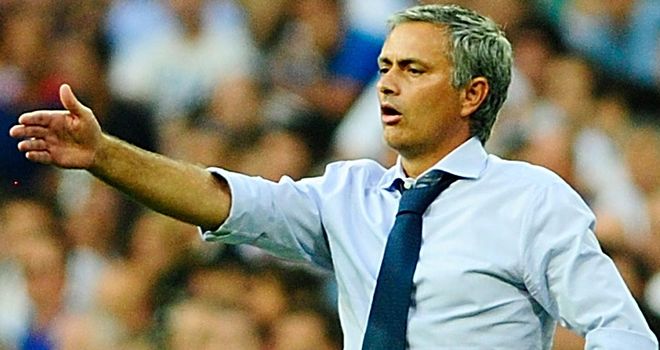 Real Madrid coach Jose Mourinho insists that he is behind UEFA's Financial Fair Play (FFP) rules.
With the English Premier League clubs ready to discuss the matter shortly, other leagues are also paying close attention.
European football's governing body, UEFA, led by president Michel Platini, has finally approved the application of a system of financial measures designed to restore stability across the continent.
The rise of free-spending clubs, such as Manchester City and Paris St Germain, has seen UEFA move to encourage clubs to live within their means by spending less than they earn while also limiting player salaries.
Founded 110 years ago, Real Madrid have enjoyed domestic and continental success rivalled only by Catalan outfit Barcelona and a handful of other clubs.
And Mourinho insists that it is Real's heritage, and that of other European giants, that will protect his club from any negative repercussions when the new regulations are applied.
The Portuguese told AS: "Madrid, Barca and Bayern are all clubs that have a unique history.
"You can't buy that with money. The titles, the European Cups, the history, the fanbase, you can't achieve these things just by spending money.
"And all the best players want to be at these clubs, at these three clubs and a few others that have hundreds of trophies between them.
Restrictions
"It's still an important factor for the players. Then you have to bear in mind that Financial Fair Play is coming in soon, and Platini says he wants it followed to the letter.
"They are going to impose restrictions on clubs that aren't well structured and make life difficult for them, even if they have piles of money.
"I know my club, Madrid, well and the infrastructure is in place to cope (with the new rules).
"Real Madrid has the potential and the history to keep the best players, such as Cristiano (Ronaldo), (Iker) Casillas, (Karim) Benzema and (Gonzalo) Higuain. Barca are the same.
"But clubs that live exclusively on the funds of their owners won't find life so easy, because they don't have the structure of the historic clubs.
"And that's why Financial Fair Play will be good for football."
The double Champions League-winning coach insists, however, that professional footballers should not be criticised for joining free-spending clubs in pursuit of large wage packets.
He added: "This week Zenit St Petersburg have signed Hulk and (Axel) Witsel for €100million.
"These are players you think would sign for one of the top Champions League teams.
"Money is still important for footballers, but mainly for the average earners. If you're already earning €5m every year, you're not going to go somewhere else for five-and-a-half.
Champions League
"But an average person earning €12,000-a-year would certainly change jobs if offered €40,000 elsewhere.
"It's logical because it's life-changing. The Hulk and Witsel situation will be repeated over the coming years.
"But prising a big star away from an historic club will not be as easy. It's the new reality to which we must adapt."
Mourinho also reflected on the Champions League draw that saw Real Madrid placed in the same group as Borussia Dortmund, Manchester City and Ajax and picked the German champions out as the team to beat.
"I am not so sure that City will be the toughest," he said. "Dortmund are the champions of Germany and are a top team, full of internationals, many of them German, and two of the best from Poland.
"They have gained Champions League experience, have an impressive stadium and their supporters will help them throughout.
"With Ajax you never know, but they can cause a surprise. There will be no room for error.
"Manchester City, well, they are powerful because of the money, the players and the world-class stars they have.
"City is a team that is being put together to win the Champions League. That is the aim. The money they have been spending year after year has one objective, and that is to win the Champions League.
"It will be hard. But it will be hard for Real Madrid and hard for them all as well because Madrid is Madrid."