Barcelona's Lionel Messi says he prefers team success to personal honours
Lionel Messi insists that being a team player is more important to him than any individual honours.
Last Updated: 01/10/12 12:32pm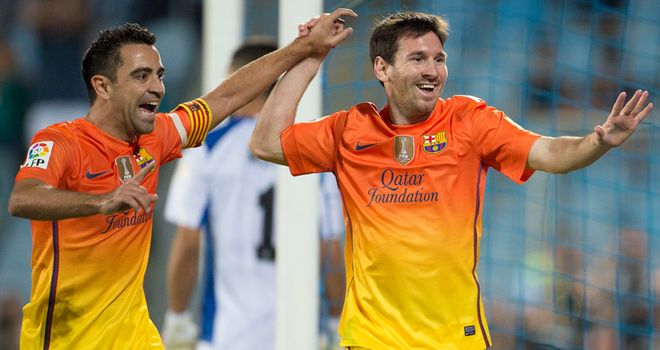 The 25-year-old is widely recognised as the greatest player in the world and has been named World Player of the Year three years running, whilst also winning the Balon d'Or twice for Europe's best player.
But Messi - who has won five league titles and three European Cups with Barcelona - insists winning with his team-mates is the most important thing to him.
"I prefer to win titles with the team ahead of individual awards or scoring more goals than anyone else," Messi told Spanish daily El Pais.
"I am more worried about being a good person than being the best football player in the world. When all this is over, what are you left with? When I retire, I hope I am remembered for being a decent guy. I like to score goals but I also like to have friends among the people I have played with."
Meanwhile, Messi was also quick to heap praise on new Barca boss Tito Vilanova - who he has known since he played in the youth sides of the club.
"I was pleased with the news that Tito was the replacement for Pep," Messi added. "I have known him since I was a lad.
"Tito was the first person who had faith in me, because at the time I was a substitute or didn't play, and he was the one who made me starter in that category (Under-16s).
"I know him well, he's open. He tells you things to your face without any type of problem, I like this."
El Clasico
Barcelona host Real Madrid on Sunday - live on Sky Sports - in the first Primera Liga meeting between the two this season, and he admits it still means so much to them to beat their rivals in any 'El Clasico'.
"It's the best feeling to beat Madrid because of the importance attached to it," Messi said.
"Madrid kill you on the counter-attack. They have extremely fast forwards, and the link-up between the defence and the attack lasts only five seconds and it is a goal. They don't need to play well to score three against you.
"I am lucky enough to know well (fellow Argentines) Gonzalo Higuain and Angel Di Maria. Higuain isn't in the game, touches the ball twice, and scores two goals. Madrid score goals out of nothing."