Real Madrid star Kaka back in Jose Mourinho's plans after starting against Ajax
Kaka could be working his way back into the plans of Real Madrid boss Jose Mourinho after starting against Ajax.
Last Updated: 04/10/12 3:41pm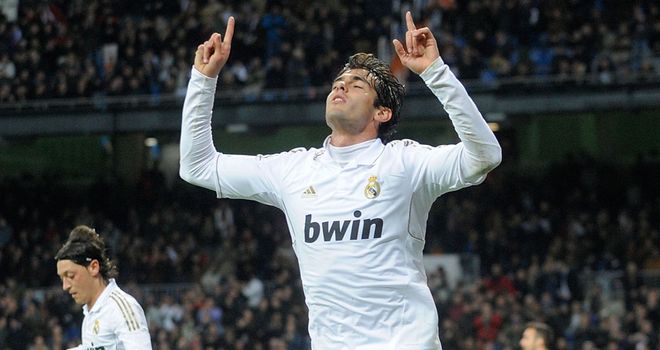 Kaka impressed in the tie at the Amsterdam Arena, providing an assist for France international Karim Benzema.
Kaka said: "I was surprised to be starting. I found out in the afternoon but at Real Madrid we always have to be prepared to play."
Kaka has been limited to only 47 minutes of action in La Liga this season, coming on as a substitute in Madrid's 5-1 win over Deportivo.
His appearance in the Champions League was just his second of the season overall.
Kaka said: "Starting games is a personal goal and if I work hard things will come."
Mourinho insists his involvment in the win over Ajax was nothing definitive.
The former Chelsea boss said: "I decided that with his (Kaka's) characteristics, the nature of the opponent and the work he did during the week, it would be good for us if he played against Ajax.
"I have to choose 11 players and there will always be someone left out."