Iker Casillas not too concerned by Barcelona's lead over Real Madrid
Iker Casillas thinks it is too early to write off Real's titles hopes despite trailing Barcelona by eight points.
Last Updated: 09/10/12 3:36pm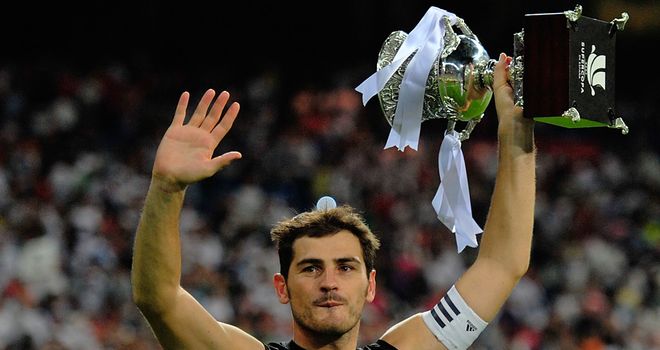 Real had an opportunity to close the gap on Sunday when they travelled to Camp Nou, but the two great Spanish rivals played out a 2-2 draw.
The result left Real fifth in the standings but Casillas does not believe it is wise to draw too many conclusions at this stage.
"If we are still eight points behind in the month of December, I would be more pessimistic regarding La Liga," explained the goalkeeper.
"But now, there are still numerous matches to play. A 2-2 at Camp Nou is a good result, even from the point of view of goal average."
Casillas has also been quick to highlight that Tito Vilanova's Barca are not Real's only challengers for the title.
The Spain shot-stopper refused to discount Real's city rivals Atletico, who are joint top with Barca on 19 points after seven matches.
"One can't exclude Atletico Madrid, authors of a superb run after seven matches. This good start does not surprise me. (Coach Diego) Simeone, since his arrival, has formed a very compact team in all areas. It's a team that could fight up until the end for the title," said Casillas.
The veteran goalkeeper also voiced his support for team-mate Cristiano Ronaldo, who matched Lionel Messi with two goals in Sunday's Clasico, in the race with the Argentine superstar for this year's Ballon d'Or award.
He said: "I choose Cristiano, it's clear. Because he is a player who has brought us an awful lot during all these seasons and I know him well."