Real Madrid have dismissed reports Pepe goaded Levante players following the champions' 2-1 win on Sunday
Real Madrid have dismissed reports defender Pepe goaded Levante players following the champions' 2-1 win on Sunday.
Last Updated: 12/11/12 5:37pm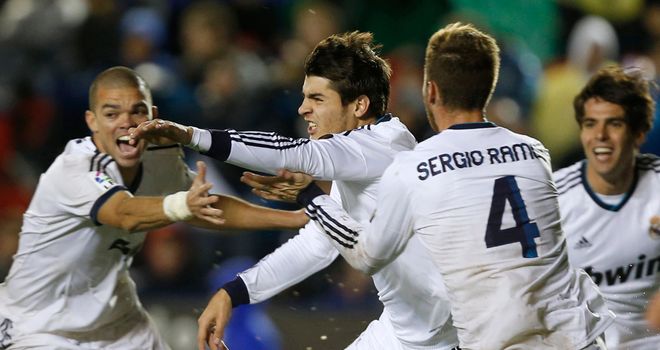 Madrid's win in conditions made farcical by a waterlogged pitch was overshadowed by accusations the Portugal centre-half had acted inappropriately after the game.
Experienced Levante left-back Juanfran made the claim, telling Punto Pelota: "Before I got into the dressing room I saw Pepe coming from the field dancing, laughing and mocking us.
"Later, he came into the dressing room when the door was open and did the same thing.
"The whole world saw it. The security staff, the police, his team, our team. That is 100% true."
Juanfran also claimed police had to be called to separate scuffling players post-match, adding: "The police and stadium security came, separated us and got into the changing rooms."
In response, Madrid released a statement this afternoon which contradicted the Levante man's version of events.
It read: "At the end of the game, the attitude and behaviour of the players, coaches and members of the travelling party were at all times correct and blameless.
"Real Madrid reject the suggestion of alleged provocation from our player Pepe to the local team.
"The Real Madrid player displayed an exemplary attitude as did the rest of his team-mates.
"This club will always defend the values of sportsmanship and respect that must prevail in the world of sport."