Victor Rodriguez says Real Zaragoza must give "200 per cent" to beat Barcelona
Victor Rodriguez believes Real Zaragoza will need to give "200 per cent" to take points off Barcelona at the Nou Camp.
Last Updated: 16/11/12 2:08pm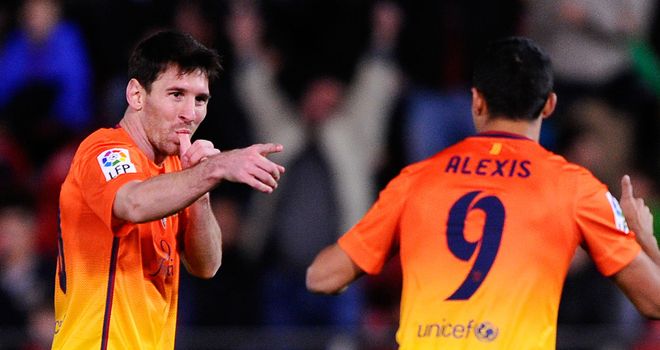 Rodriguez came up through the youth ranks at Barca and, although he never played for the first team, the 23-year-old has seen at close hand just how hard it is for opposing teams at the Nou Camp.
The Barcelona-born player said: "They are very good, if we want to do something we need to be at 200 per cent.
"We won't give any game up for lost even though know how difficult they can be, playing against sides who are of international standard.
"It's a league game and we need to try and pick up something."
Barca have claimed 31 from a possible 33 points so far this season to open up a three-point lead over second-placed Atletico Madrid and an eight-point advantage over Real Madrid in third.
However, it has not been all smooth sailing for Tito Vilanova's men, who have needed late strikes to win several games while their record of 14 league goals conceded is already almost half what they let in in the whole of last season (29) and fast closing in on the tally of 21 they shipped in 2010/11.
Veteran Zaragoza striker Carlos Aranda said of Barca on elperiodicodearagon.com: "They are human and some day they will slip-up. That's not to say it will be against us, but it would be good if they did slip up.
"It's a very difficult game, but we're going there with our feet on the ground, with the humility we always have and with the intention of having a good game."
Zaragoza are 10th in the Primera Division standings on 15 points but just four adrift of Real Betis in fourth.
Barca, meanwhile, bounced back from their Champions League defeat to Celtic with a 4-2 win over Real Mallorca last weekend to remain clear at the summit.
Lionel Messi scored twice in that match to take his tally to 20 in all competitions for Barca so far this season, and Saturday's match comes almost nine years to the day since he made his first-team debut for the Catalan outfit as a 16-year-old in a friendly against Porto.
Messi is now a firmly established star of the Barca side, but a player still looking to really make his mark is defender Martin Montoya.
The 21-year-old has been largely used as a substitute for Barca but he has done enough to catch the eye of Spain coach Vicente Del Bosque, who included Montoya in his squad for the second time for this week's friendly against Panama, although he was not handed a debut.
Montoya, who has started four league and cup matches for Barca this term, said of his season so far: "I'm very happy. I hoped to play games, but maybe not so many.
"It's a privilege to be called up by the national team and I'm very happy for having gone. I would've have liked to have enjoyed a few minutes, but if I continue working hard I hope to have some other opportunity."