Athletic Bilbao ace Fernando Llorente insists he is not thinking about his future
Fernando Llorente insists he is focusing on playing for Athletic Bilbao after making his first start of the season.
By Lucas Brown
Last Updated: 26/11/12 12:44pm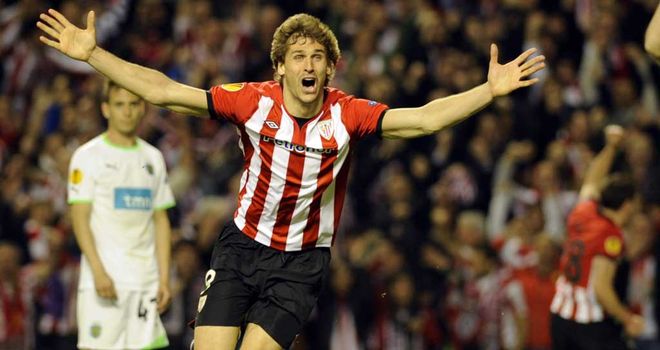 Llorente confirmed over the summer that he would be signing a new deal at the club, with his current deal due to expire in 2013.
But despite interest from the likes of Juventus and Arsenal, Bilbao refused to negotiate - but as the season started Llorente found himself dropped to the bench by coach Marcelo Bielsa.
He has also been targeted for abuse by home fans, meaning he has endured something of a miserable start to the season - but he remains buoyant.
"I do not care what might happen, I do not think beyond that, the only future I think about now giving everything for the Athletic," he said.
"My only future now is to continue at Athletic and give everything here. Further to that I do not think about and I do not care."
Llorente admits things have changed for him, compared to last season when he was one of the most in-form and sought-after strikers in Europe.
He said: "At that time, I was playing a lot of games, I was happy, and confidence and trust makes the most of you.
"Currently, the fact that I am not playing continually means I am perhaps lacking the confidence to put some goals away.
"But I have to forget what has happened, and I just have to keep working."
Llorente admits that he hopes he can start scoring again before he does leave the club.
"Hopefully I can get a few goals by the end, the more the merrier, and thereby leave the team as high in the table," he explained.
Meanwhile, former team-mate Javi Martinez has voiced his sympathy for Llorente's plight.
While Martinez completed a €40million switch to Bayern Munich, Llorente was forced to stay.
"I know that Fernando is not doing too well," the midfielder told reporters.
"He has been through some very tough times and I can only send him my best and hope his situation changes."