Brazilian defender happy to have netted five goals for Barcelona so far this season
Brazilian defender Adriano has expressed his delight at his form which has see him score five goals so far this season.
Last Updated: 02/12/12 11:25am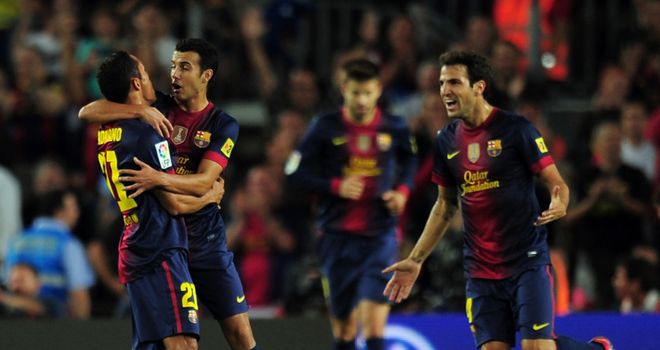 Two goals in three minutes - from Gerard Pique and a deflected Lionel Messi effort - midway through the opening 45 minutes put Barca firmly in the ascendancy and Adriano added a superb third in first-half stoppage time.
Cesc Fabregas notched a neat fourth soon after the break and, after Ibai Gomez had pulled a goal back with Athletic's first noteworthy attack of the match, Messi rounded things off with a brilliant fifth goal.
Adriano is now ranked the fourth highest scorer at the club following a win which consolidated their place at the top of La Liga.
Adriano told the club website: "I'm very happy to be able to score goals for the team.
"I have never scored so many goals at this point of the season."
Adriano revealed the victory was built on the team adapting the right approach to the game.
"We were very serious from the start, the first half was fantastic.
"We prefer to play against teams that want to play their football (like Athletic), it makes you more focused and it forces to play at your best."
Following his return from injury Adriano played in midweek in the 3-1 Copa del Rey win against Alaves and was then named by coach Tito Vilanova to start against the Basque club.
"I had to work hard in order to recover in time for this game. I managed to do it and the manager thought it was a good idea for me to play.
"Matches against Athletic Club are always physical and demanding.
"This is probably my best season, and the team is playing very well, but there's a lot left to do."
Fabregas agreed with Adriano that playing Athletic always proves a difficult prospect.
He said: "This is always one of the most difficult matches of the year, they are always demanding.
"We really enjoyed ourselves on the pitch because Athletic Club force you to play at your best level."