Real Madrid goalkeeper Iker Casillas has described Jose Mourinho as 'magical'
Real Madrid goalkeeper Iker Casillas has described manager Jose Mourinho as a 'magical' person.
By Lucas Brown
Last Updated: 06/12/12 11:19pm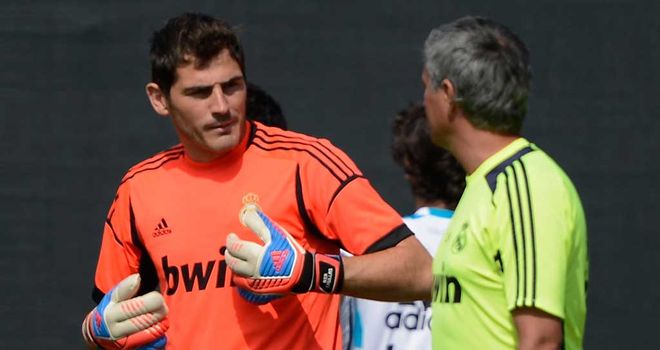 Mourinho has been under fire after Real Madrid have fallen 11 points off the pace in La Liga, also only qualifying as runners-up to Borussia Dortmund in the UEFA Champions League.
Casillas has praised Mourinho amidst reports that the manager is set to leave Madrid at the end of the current campaign.
"He has reasons for being angry because we have not done well on the pitch," Casillas said.
"We are adults and we say things to each other's faces"
"Leaving aside the fact that he is the coach and focussing just on him as a person, I can say he is magical."
Casillas then spoke of his own future at Real, explaining: "My idea is to play until I am 35 or 36, which is when my contract at Real Madrid finishes.
"Would I play for another club? I would say no, this is my club and my home."