Dani Alves' thoughts are with Barcelona coach Tito Vilanova
Dani Alves admits football is of secondary importance while Barcelona coach Tito Vilanova fights against cancer.
Last Updated: 03/01/13 3:38pm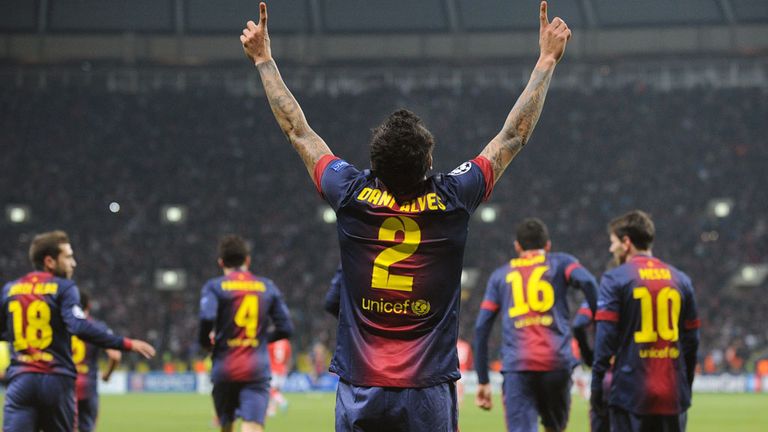 Vilanova, 44, was discharged from hospital on Saturday 48 hours after undergoing an operation on a tumour on his parotid gland and he now faces six weeks of chemotherapy.
The Barca players were told that Vilanova, who also had a tumour removed from his throat in November last year, had been allowed to return home prior to their match with Real Valladolid on Saturday and they subsequently dedicated their 3-1 victory to their manager after the game.
That victory left Barca nine points clear at the top of the Primera Division standings and clear favourites to be crowned champions for the fourth time in five years, but Alves admits on-field matters do not compare to the health of their coach.
He told Brazilian newspaper O Estado de Sao Paulo: "It was a surprise and we were happy to know that he was already at home (after the operation). We're ready to help in any way he needs. Football is secondary right now. He is fighting for his life."
Regarding his side's lead at the top of the table, Alves is well aware it is already a sizeable one but has nevertheless is keen to increase it in 2013.
"We've built a considerable advantage because we've made the most of our opponents dropping points," he said.
"But it's an advantage that we need to look after, because we still have many games left. We're only at matchday 17. We must work to extend this advantage after the resumption."
Alves has been linked with a move away at the Nou Camp, with Premier League side Arsenal one of the clubs reportedly eyeing the Brazil international, but the 29-year-old insists he is not looking to leave Barca.
"I'm very happy at Barcelona," he said.
"These stories are created to destabilise us. I want to fulfil my contract and reach my goals. I have no problem in Barcelona and I'm very well."