Cristiano Ronaldo coy over Real Madrid future
Cristiano Ronaldo won't discuss his future at Real Madrid until he has helped his side atone for a disappointing start.
Last Updated: 02/01/13 3:12pm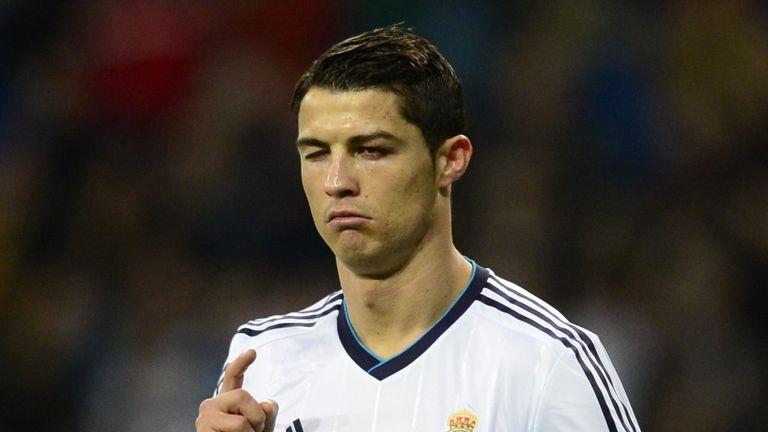 The Portuguese forward has been the subject of intense speculation since admitting he was "sad" at the Bernabeu for professional reasons back in September.
Recent reports in Spain also suggested Ronaldo was stalling over an offer to extend his stay in Madrid beyond 2015, with big-spending Paris Saint-Germain rumoured to be interested in acquiring the 27-year-old's services.
The future of Ronaldo's countryman and current Real boss Jose Mourinho is similarly unclear, with the capital club trailing fierce rivals Barcelona by 16 points amid rumours of unrest behind the scenes.
But in an interview with Spanish newspaper AS, the 22-goal man stressed his commitment to Mourinho's project, which continues against Real Sociedad on Sunday.
He said: "I feel great and I'm convinced that this year will be better than last year. I'm feeling good and ready to do my best, as always, and to be better than last year."
When asked about his contract, Ronaldo stood firm, adding: "That subject has already been spoken about. I won't talk about my contract renewal anymore, it's not important.
"The most important thing is winning our next matches. We are contesting La Liga, the Copa del Rey and the Champions League and it's important that we all stick together.
"Right now I'm feeling more comfortable with the fans, not just at the Bernabeu, where I've always felt good, but outside too.
"They have shown me a lot of love. I want to pay them back in the best way possible, which is playing well and giving my all for the shirt and helping Madrid get to the top.
"We want a perfect start to the year. We are at home, we are the favourites and we need to start well."
Six crucial Primera Division fixtures precede an encounter with a significant emotional pull for Ronaldo, as Manchester United visit the Bernabeu in the last 16 of the Champions League.
Referring to the club he left for £80million in 2009, Ronaldo added: "I still have great feeling of friendship and love for them, they're a team that have done a lot for my career.
"The fans know me well and I have a lot of friends there that I keep close to my heart.
"But now I am defending Real Madrid's colours. It's a bit of a sad feeling I guess, but I want to score, and for us to win, and that would make everything better."