Barcelona coach Tito Vilanova issues a message of thanks to Barcelona fans
Barcelona coach Tito Vilanova issued a message of thanks for the support he has received in his battle against cancer.
Last Updated: 07/01/13 9:28am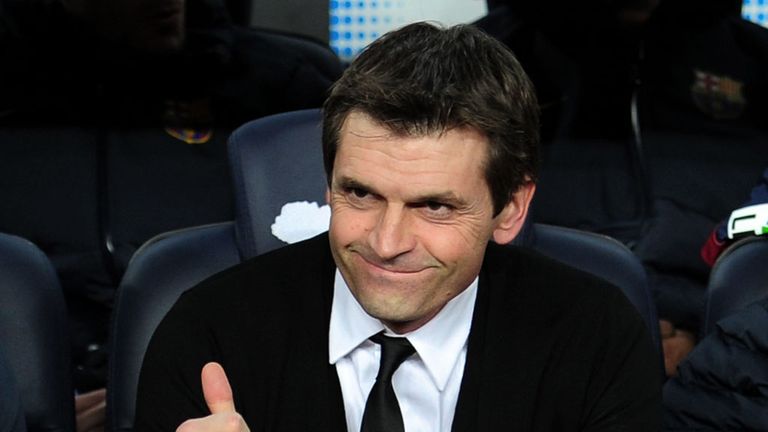 Vilanova underwent an operation on a tumour on his parotid gland last month before beginning a course of chemotherapy but the 44-year-old has already returned to work and last night sat on the bench as Barca beat Espanyol 4-0 in their opening match of 2013.
Although his cancer fight is not yet over, Vilanova was keen to thank the support he has got so far.
Speaking after the match, he said: "I would like to give thanks to everybody for their support. I've had a lot of messages and they help you. I want to thank the doctors and nurses at Vall d'Hebron and also to the club.
"At all times I've felt supported and protected by the club. I want to thank the staff and the players, as it isn't easy for them either."
Vilanova's operation came a year after he first had a tumour removed from his throat, while Barca defender Eric Abidal is currently fighting to return to action after undergoing a liver transplant in April. The Frenchman had previously had surgery to remove a tumour from his liver in March 2011
Vilanova added: "I think this group has already suffered too many tough blows in recent years and it's not easy to react how they have done. I think it will help us, this situation keeps our feet on the ground because we are no different from anyone else.
"I also want to thank the media for how you have treated my illness and how you have respected me. This isn't over and at times I will not be at training and I hope that you continue respecting that.
"I know that I'm in a public position, but the illness is private."
Barca's win over Espanyol helped them extend their lead at the top of the Primera Division to 11 points after nearest challengers Atletico Madrid were held 1-1 by Real Mallorca.
Barca had their victory wrapped up inside the opening half-hour after netting four times through Xavi, Lionel Messi and a Pedro Rodriguez double.
Vilanova said: "We started off really well. It's not easy to start like this after a break, but we showed that we're on form."