Cristiano Ronaldo confirms he wants to stay at Real Madrid until contract ends
Cristiano Ronaldo insists he wants to see out the remainder of his contract with Real Madrid.
Last Updated: 14/01/13 12:52pm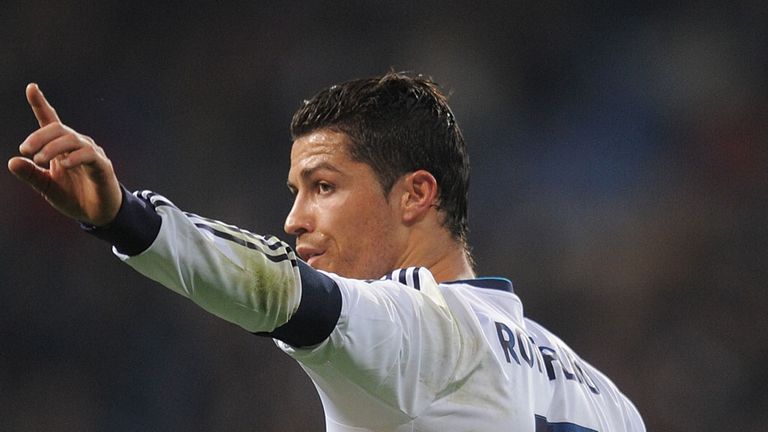 The 27-year-old forward's deal with the Spanish champions runs out in 2015.
Portugal international Ronaldo has been the subject of speculation since he admitted to being "sad" for professional reasons in September last year.
The player has rejected suggestions he is looking for a move, although he did admit he does not know what the future holds beyond the end of his current contract.
Speaking to fifa.com in an interview conducted at last week's Ballon d'Or awards - at which Ronaldo was beaten to the top prize by Barcelona's Lionel Messi - the Madrid player said: "I want to see out my contract at Real: I'm very clear about that.
"After that, well, I don't know what'll happen in the future."
The speculation about the future of their star player is not the only headache Madrid have had to deal with this season.
Saturday's goalless draw with bottom club Osasuna left Madrid in third place in the Primera Division standings, a massive 18 points behind leaders and arch rivals Barcelona.
With their domestic title slipping away, all eyes will now be on Madrid to see if they can finally end their long wait to win the Champions League.
Madrid have claimed a record nine European Cups in their history but their last success in the competition came back in 2002 and winning a 10th title has become an obsession for the Spanish giants.
Since falling at the last-16 stage for six successive seasons, Madrid have reached the semi-finals in the last two years and this season they are determined to go all the way.
Frustrating
"Every Madridista wants that 10th European Cup - we're more than aware of that," Ronaldo said. "Last season we fell just short, which was very frustrating. Fortunately we've got the opportunity to set the record straight this year, though the fact we face Manchester United next makes it more difficult.
"It's not going to be easy and I reckon the odds are about 50-50, but I'm still very confident."
He added of the match against his former side United: "No team's unbeatable, but when we're at our best we're a really good side.
"Manchester United have started the English championship race very well and are a long way ahead of the rest, but still, if we play the way we're capable of, we can beat them.
"To do that we need to pull together and play as a team, like we've done in so many matches before."