Champions League: Gerard Pique believes Barcelona can repel Milan threat
Barcelona defender Gerard Pique is confident the Spanish side can overcome Milan in Tuesday's Champions League clash.
Last Updated: 12/03/13 7:18pm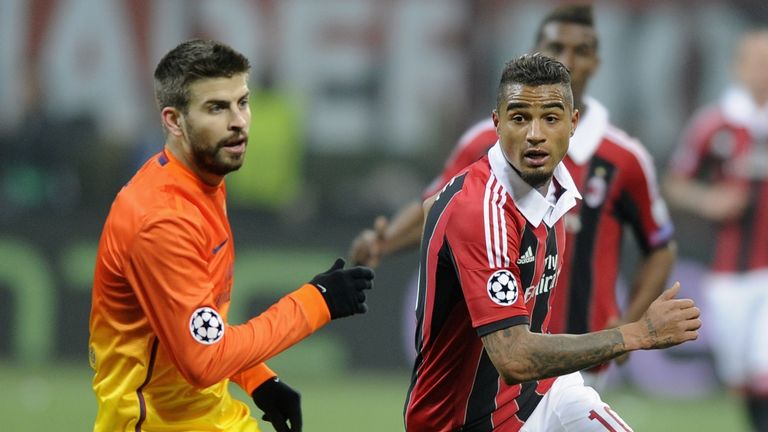 The Italians travel to the Nou Camp with a 2-0 lead from the first leg and Barca have also recently suffered back-to-back defeats to arch rivals Real Madrid in the King's Cup semi-finals and in La Liga.
These three reverses have prompted suggestions that Barcelona are in decline, which have been dismissed by Pique.
"We aren't looking to shut up the critics," said the Spain international.
"We are the leaders in La Liga, 13 points ahead of second place. Real knocked us out in the Cup, but this can happen as they are a great team.
"The season has been brilliant. We want to win, for ourselves and for the fans. Not for all of you, to silence the critics.
"People have short memories. We have changed history in recent times, under Frank Rijkaard and Pep Guardiola.
"Only 10 or 12 years ago the fans went mad when a last-minute goal from Rivaldo qualified us for the Champions League. People should have confidence in this team. They have earned it."
Looking ahead to the game, Pique added: "We have five years experience of playing against teams who defend deep, and we know what to do. It is just Milan are specialists and do it very well and make it very tough.
"We will have to open up the pitch, move the ball quickly, make the most of a good, watered surface. I have confidence in the attacking players. If there is one thing this team does not lack, it is goals.
"We are a team who have always played with our heads and we will do the same. Perhaps in the last few minutes you have to play with the heart. We will go out and attack, but we won't be going mad."