La Liga: Valencia coach Ernesto Valverde admires spirit of Atletico Madrid
Valencia coach Ernesto Valverde says Atletico Madrid are a reflection of their coach Diego Simeone.
Last Updated: 30/03/13 12:35pm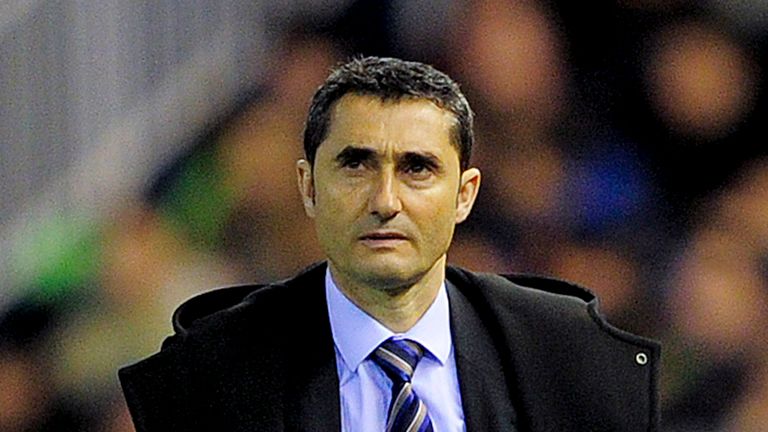 Valverde came up against Simeone as a player in the 1990s when the former played for Athletic Bilbao and the latter for Sevilla and then Atletico Madrid.
He told a press conference: "He [Simeone] was a tough player, he brought a lot of character to his teams.
"That's the impression I have of him as a player and when I watch Atletico now it's like a version of what he was like as a player. They have an enviable spirit about them and the whole team is committed to the cause. Simeone has given the team a lot of character.
"They might not be a team that retains possession but they are a solid team who make sacrifices for each other and are good at taking the ball from their opponents, things that characterised Simeone as a player."
Valverde highlighted the quality of Atletico's Colombian striker Radamel Falcao but also mentioned Diego Costa.
He said of the Brazilian: "He has been on a great level of form for a long time now and he has great ability, it often looks like he's about to lose the ball but he never does."
Valencia are fifth in the Primera Division table, 15 points behind Atletico, who occupy third spot.
While it is still mathematically possible for Valencia to catch Simeone's side in third, the position Los Che have finished in for the past three seasons, Valverde was not optimistic about their chances of doing so.
"We have to be realists and we have a lot of ground to make up in just a few games," he admitted.
Valencia will be without main striker and top scorer Roberto Soldado, who is still recovering from an ankle injury, plus centre-back Adil Rami and midfielder Sofiane Feghouli, who are both suspended.
Atletico, on the other hand, will be without suspended right-back Juanfran Torres and midfielder Tiago, who is still recovering from a broken arm.
Valencia were the first team to beat Atletico Madrid this season and Simeone has acknowledged that Valverde's side have what it takes to get one over Los Rojiblancos when they take to the Calderon on Sunday.
He told reporters: "The players are still the same and they still have the same characteristics. They have improved on their results since then and they are fighting for the top spots, which is where they deserve to be because of the squad they have.
"They are a team that play good football and have a lot of alternatives and to my liking they have one of the best squads in the Primera Division. They've got aspirations to get further up the table and this is going to be a vital weekend for us."
The match, taking place on Easter Sunday, is expected to be a sell out and the Argentinean is excited about the match as a spectacle.
"I'm looking forward to a full stadium that will be excited about seeing a team that's one of our rivals, that have good players in almost every area of the pitch," he said.
"It's a match between two teams with big aspirations. We obviously want to keep the position we have already and they are looking to get in amongst the best teams. It will be an entertaining game."