PSG defender Thiago Silva says he could never turn his back on Barcelona
Paris Saint-Germain defender Thiago Silva says he could never rule out a move to Barcelona in the future.
By Lucas Brown
Last Updated: 10/04/13 12:07pm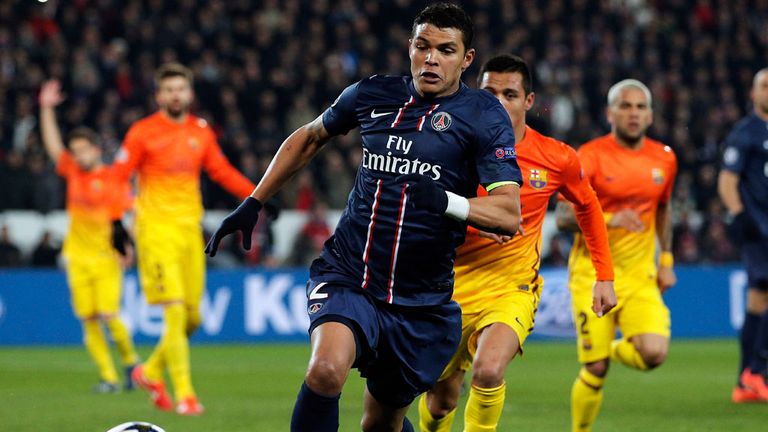 PSG travel to the Nou Camp on Wednesday evening for the second leg of their Champions League quarter-final, with the game tied 2-2 on aggregate.
Silva has been heavily linked with a switch to the Spanish giants on a number of occasions and the Brazilian says that, although he is happy at PSG, a prospect of a move in the future is something he could not turn his back on.
"You can never close the doors though because you never know what will happen," the Brazilian told El Mundo Deportivo.
"I have been a Barca fan since I was a child and followed them since they had Romario, Rivaldo and Ronaldo. I was the number one fan of those teams and the one they have now, after Wednesday I will continue to support them.
"But for now, I am happy at PSG and hope to continue to help them move forward with the project here."
Silva only moved to Paris in the summer but Barcelona were reportedly in the hunt for his signature back then too.
"There were important talks with my agent, but we gave our word to Leonardo, who I knew from Milan," he added.
"Once I had given my word it was difficult to go back, but one never knows what the future holds. People can dream."
Reports have suggested that there is a buy-out clause in the defender's contract which Barcelona may be willing to meet, but he says it is not something which affects him.
"I have only just come here and I am not thinking about that. It is something for my agent to worry about," he added.
"People know that bureaucratic things can be resolved in some way. When you sign a contract you only think about staying for all of it, but that depends on many things.
"I have always respected opponents and it will not be me that closes any doors. I am happy now, but I cannot predict the future."