Real Madrid boss Jose Mourinho keen to play down talk about future
Jose Mourinho has tried to play down talk about his future ahead of Real Madrid's clash with Real Betis on Saturday.
Last Updated: 19/04/13 4:13pm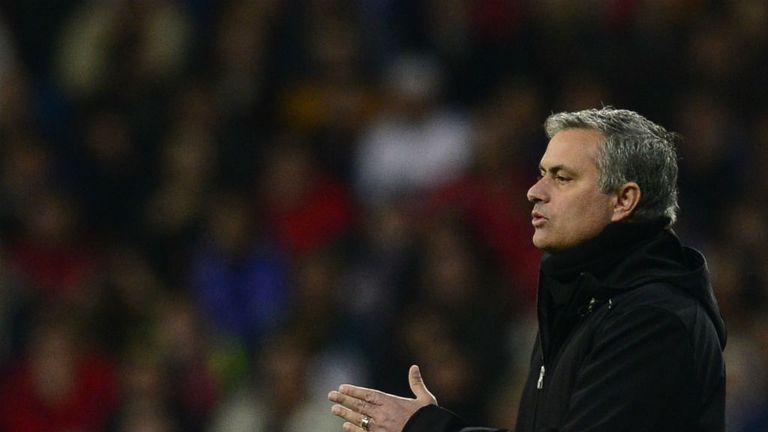 The Portuguese has been widely linked with a move away from the Spanish capital this summer, with former club Chelsea constantly mentioned as a destination.
A move to London was given further credence this week when Manuel Alvarez, president of Canillas - the club of Mourinho's son - said the 50-year-old had told him he would not be at Madrid next season.
Today was Mourinho's first opportunity to respond and, although he gave a nod to Alvarez enjoying the attention, he did not deny such a conversation had taken place.
Alvarez claimed Mourinho had told him and other coaches at the club that he would be unable to speak to them next season, with Mourinho's version of events only slightly different.
"Yes I can confirm it. He asked me if I will be able to speak to the coaches at the club next year. I don't (know if) I will be able to.
"To speak about Canillas is like speaking about what is almost a second home for me and my son. It's a great club. But they have a problem - their president loves the press and he loves attention.
"He is a fantastic person and treats me and my son very well, but he has this small problem, it's not my problem."
There will surely be no shortage of takers if Mourinho quits Madrid, although he will hope to have won the Champions League and Copa del Rey by then.
His assessment of his mood was not entirely glowing, though.
"I'm not unhappy at Madrid. I could be happier or less happy, but that could happen anywhere. There is no such thing as the perfect club or the perfect coach," he added in quotes carried by AS.
"The fundamental thing is to finish the season well. We are two games from the Champions League final, not long ago we were 13. Then, when the pressure from those games has passed, we will sit down and come to conclusions."