Sergio Ramos an injury worry for Real Madrid ahead of Copa del Rey final
Real Madrid's Sergio Ramos says he will play through the pain barrier in the Copa del Rey final against Atletico Madrid.
Last Updated: 17/05/13 11:32pm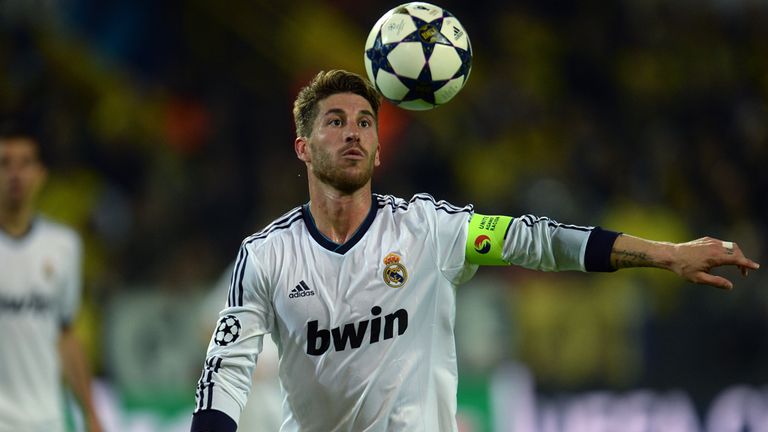 Ramos has not played since the Champions League semi-final second leg with Borussia Dortmund on April 30 due to a muscle injury.
Madrid's problems in defence were dealt another blow last weekend when Raphael Varane picked up a knee injury against Espanyol which has ruled him out for the rest of the season.
Meanwhile, Ramos' partner in central defence at the start of the season, Pepe, is out of favour with Jose Mourinho after criticising the coach over his treatment of goalkeeper Iker Casillas.
With Mourinho's options running short, Ramos told a press conference on Thursday evening that he may have to play against Atletico, even if he is at less than 100 per cent.
He said: "The boss knows what level of fitness I'm at in and the injury I've had.
"I want to give everything for the team, and the team need me due to the current circumstances.
"We are all ready to play and looking forward to it, we all need to be prepared."
Ramos also sought to play down the rift between Pepe and the coach, saying: "It was nothing special. Pepe has not been separated from the team, he has been training with us like another member of the team, but it's up to the coach if he plays.
"The mentality of this team is that there are no starters or substitutes, that's good for the team."
Ramos added that the team would not be affected by speculation of unrest between the players and Mourinho when they take to the Bernabeu pitch.
"We should not be concerned at all by what people say, it's vital that the well being of the group should come before any of us. We have a trophy to play for."
He added: "There can be no excuses. You play finals in order to win them."
Ramos was the only member of the Madrid squad to attend the press conference, which was marked by the absence of Mourinho amid ongoing speculation that he could leave at the end of the season, with Chelsea his likely destination.
But the Spain international said: "Today we decided that one of the players would speak, and I'm delighted to do that.
"We are here to talk about football, not about controversies or anyone's future."