Tottenham target David Villa could be interested in leaving Barcelona for Fiorentina
David Villa's agent has hinted that the Barcelona striker would consider a move to Fiorentina this summer.
By Simone Bargellini
Last Updated: 22/06/13 3:28pm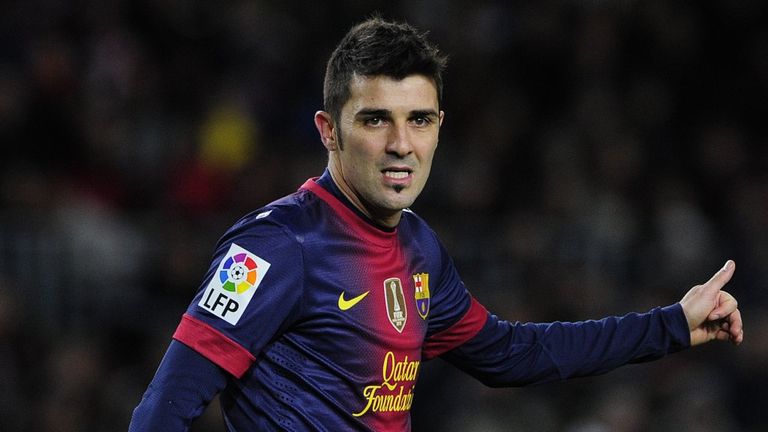 Reports continue to suggest the former Valencia forward will leave Camp Nou following the €57million (£48.6m) arrival of Brazil superstar Neymar.
Spain's all-time record goalscorer Villa has consequently been linked with a host of clubs around Europe, including Premier League derby rivals Arsenal and Tottenham Hotspur.
Ambitious Fiorentina, who will play in the Europa League next season after finishing fourth in the 2012/13 Serie A, are also said to be lining up a bid for Villa, along with Barcelona squad-mate Jonathan Dos Santos.
And Villa's representative, Victor Onate, told Tuttomercatoweb: "It would be an exaggeration to speak about an official interest but we know Fiorentina's plans and they are fascinating.
"I know the technical director, Eduardo Macia, with whom I worked in Valencia, and we are constantly in touch.
"Fiorentina's season was good and they want to grow again."
The opportunity to play first-team football will likely prove a main factor in Villa's decision-making process, especially with the 2014 World Cup on the horizon.
It could likely to be the 31-year-old's last major international tournament and he will not want to miss out when Spain attempt to defend their world title.
Asked about the possibility of Villa moving away from Barcelona, Onate added: "Leaving a club like this is not easy. But next year there is the World Cup and the boy will face it as a protagonist.
"If he was to leave, we will seek for an important project. Italy or England makes no difference."