La Liga: New Barcelona boss Gerardo Martino is stunned by 7-0 won over Levante
Gerardo Martino admits he never expected to enjoy such a stunning debut as Barcelona demolished Levante 7-0.
Last Updated: 19/08/13 10:38am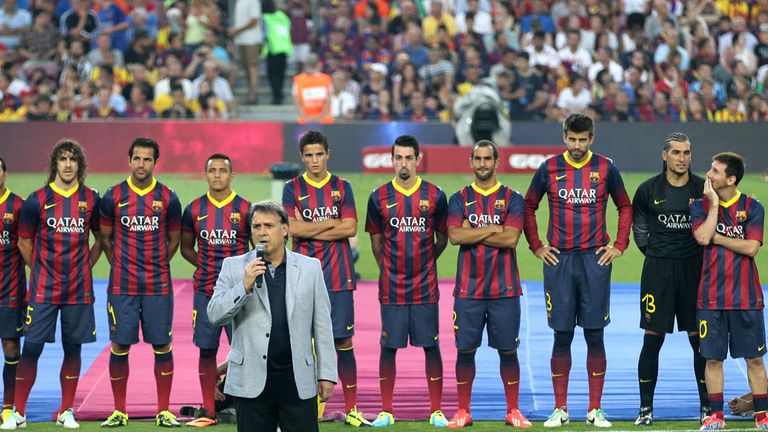 In his first competitive match since replacing Tito Vilanova this summer, Martino saw his side produce a remarkable first-half display at the Nou Camp as they raced into a 6-0 lead before the interval following goals from Lionel Messi (two), Alexis Sanchez, Dani Alves, Pedro Rodriguez and Xavi.
Barca only added one further goal in the second half with Pedro notching his second, but it was nevertheless a brilliant start to the campaign for the reigning champions.
Martino said: "The game surpassed all my expectations.
"The concepts that we've talked about with the players, which aren't new things but ones that've been stored away, we've returned to do.
"Our central-playing midfielders went deep, we switched up direct play with build-up play, these are good signs despite the fact that we've just started. One of the aspects we've insisted on the most is pressure. I'm very satisfied."
Martino knows it is early days though and feels there are still things the reigning champions can improve on yet.
"We can be more intense. We can prolong our pressure and we can continue to look for alternatives when we go forward. We need to play on the inside, on the outside, the right and left backs need to come forward, the central players need to get into the area..." he added.
"It's very premature to make an overall analysis after only 90 minutes. We have to play more matches in order to truly see how we are doing."
Veteran midfielder Xavi, whose first-team debut for the Catalan giants came 15 years ago, was similarly pleased with Barca's performance.
He added on his club's website: "I'm very happy with the way we've started.
We've recovered the mechanism we had lost. We've recovered our high pressure like Tata Martino wanted.
"We've regained this aspect of our play and that's what we were looking for, we trained hard throughout the whole pre-season."