Spanish Super Cup: Atletico Madrid v Barcelona preview
Gerardo Martino has admitted his Barcelona team are the clear favourites to win the Spanish Super Cup.
Last Updated: 20/08/13 7:50pm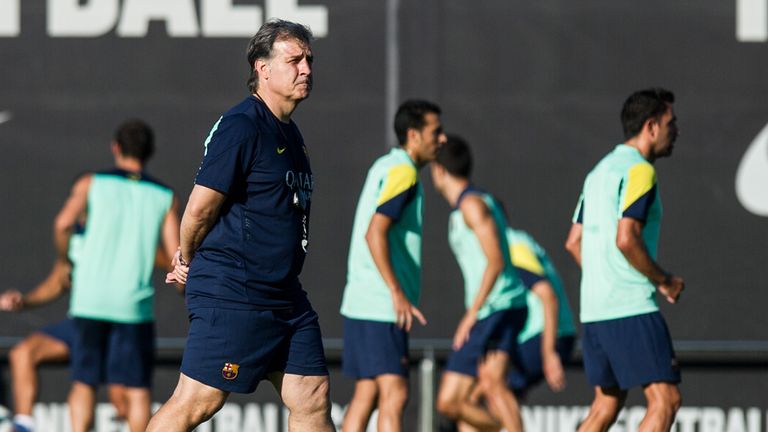 The Catalans qualified for the Super Cup after winning the Primera Division title last season, which they clinched with four games to spare, on their way to accumulating a total of 100 points.
In Martino's first competitive game in charge at the weekend, Barca showed no sign of letting up, hammering Levante 7-0 at the Nou Camp.
The Argentinian coach was happy to accept his team were expected to beat Atletico, who won the Copa del Rey last season, but warned that the nature of a two-legged competition meant there was a possibility of slipping up.
"It's difficult for Barcelona to not assume the role of favourite, that's how it is in every competition" he said during a press conference, quoted in AS.
"But accepting that doesn't mean you will prove on the pitch that you are the favourites, and we will demand a lot more from ourselves. In the league you get a lot more chances than a competition like this one, where you just need one good or bad night."
Although the Super Cup is not considered a major trophy, Martino said he was just as determined to win it.
"When you coach Barcelona, you always have to have the highest aspirations and you are obliged to win all the time. We will try to win this trophy. It's an 180 minute game, and we have to approach it with that in mind."
Martino raised eyebrows in the game with Levante by taking off Lionel Messi, who was not injured, before the end of the game, the first time he has been substituted since May 2010.
The coach explained after the game that Messi needed a rest, but on Tuesday he remarked he would not be taking the forward off very often.
"Messi knows the situation, and I will be careful enough to make sure I don't substitute him five games in a row. This is a two-way relationship, and we have to consult each other, I won't just decide because I am the coach."
Atletico coach Simeone also believes that Barcelona are favourites for the game.
Quoted in AS, he told reporters: "They have Messi, the best player around, and in Neymar they've bought a player who could become the best player in the world, as well as having Xavi [Hernandez], Pedro [Rodriguez] and Alexis [Sanchez]. They have a lot of important players and it's no surprise they are favourites. But we will fight them with all our might."
Simeone also had some words of praise for his compatriot Martino.
Simeone said: "He was an extraordinary player with an incredible vision for the game. Now we can see he's also a very good coach. It will be great to face each other."
Atletico got their season off to a winning start by beating Sevilla 3-1 away from home, with Diego Costa bagging a brace.
The coach said former Barcelona striker David Villa "can form a great partnership" for Atletico.
Villa will face his former employers for the first time since moving to the Spanish capital in the summer for 2.1million euros (£1.8 million), but Simeone said the player would be more focussed on delivering for his new team - in what will be their fourth final since Simeone took over - adding to the UEFA Europa League and Super Cup in 2012, plus the Copa del Rey final last season.
"Beyond what he feels personally, he knows this team is a collective that is excited about playing another final. This is our fourth final in a year and a half, which is no mean feat, and it makes us very happy."
Neither side have fresh injury concerns after their weekend games, although Atletico midfielder Tiago Mendes, who was suspended for the game in Seville, is free to face Barcelona.