Barcelona's Gerardo Martino dedicates Spanish Super Cup triumph to Tito Vilanova
Barcelona coach Gerardo Martino dedicated his side's Spanish Super Cup triumph to his predecessor Tito Vilanova.
Last Updated: 29/08/13 7:37am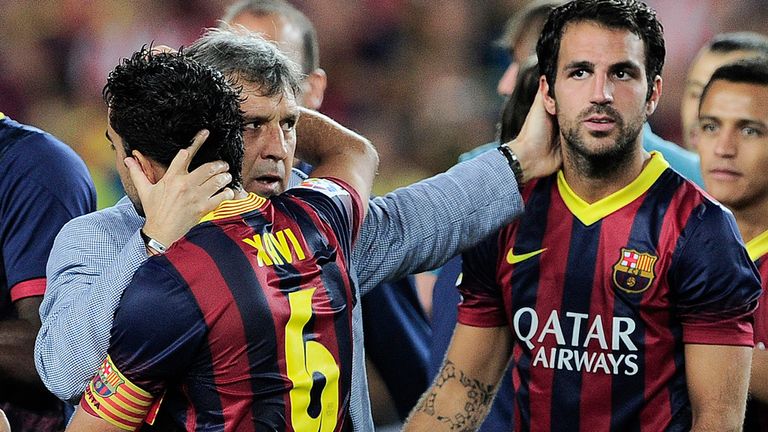 The Catalans reclaimed the trophy they lost last year to Real Madrid after defeating Atletico Madrid on away goals, earning a goalless draw at the Nou Camp a week after the first leg at the Vicente Calderon ended 1-1.
Lionel Messi missed a late penalty in a game of few chances, while Atleti defender Filipe Luis was sent off for an off-the-ball challenge on Dani Alves with 10 minutes remaining.
Barcelona had qualified for the Super Cup by winning the Primera Division title last season under the guidance of Vilanova, notching up a club record of 100 points in the process.
Martino was named as Vilanova's successor in July and gave all the credit for winning his first trophy as Barca boss to the Catalan coach.
He said: "The fact Barcelona won the trophy does not change anything, this triumph came about because of what happened last year. In the end I ended up winning it because of an unfortunate turn of events.
"This trophy belongs to the players, to Tito Vilanova and the rest of the coaching staff."
Martino said that winning the trophy was the most important thing for his side, but acknowledged that the victory was not the most memorable, and admitted there was a lot of room for improvement.
"When you are playing for a trophy, winning is all that counts," he said.
"You are known as the champions no matter how you won it, even though there is less splendour to the victory.
"We would have liked to have played with more speed and precision, and to have attacked the spaces better. But the season has just started and this isn't bad at all."
Despite walking away from Barcelona empty handed, Atletico boss Diego Simeone was positive about his side's performances over the two legs.
"We have ended up with nothing, but we have shown that we are growing as a team," he said.
"I'm proud of my team and have nothing to worry about. The players did what the club needed them to do."