Real Madrid: Carlo Ancelotti insists it is too early to pass judgement
Carlo Ancelotti believes it is too early to cast judgement on Real Madrid despite their faltering start to the campaign.
Last Updated: 01/10/13 5:13pm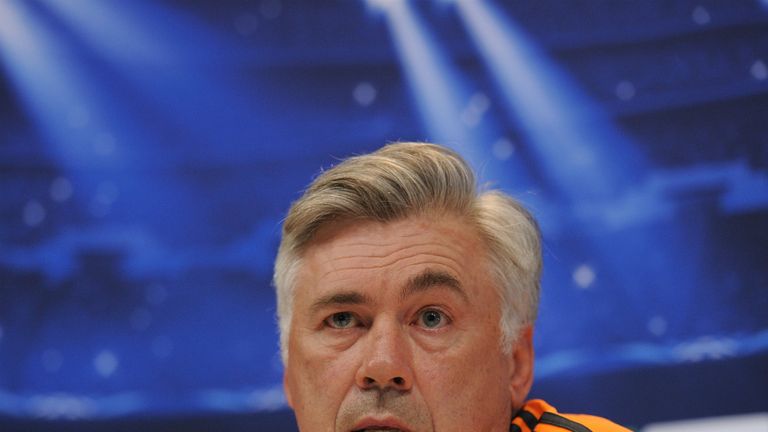 A 1-0 defeat to rivals Atletico Madrid on Saturday was Ancelotti's first capital derby in charge as Los Blancos slipped five points behind their city rivals.
The weekend defeat was preceded by another unconvincing performance in a controversial 2-1 win over Elche in midweek as Real continue to make a stuttering start to the season.
However, coach Ancelotti has pleaded for his squad to be given time as the Italian expects a positive reaction from his side when they face FC Copenhagen in the Champions League on Wednesday.
"I'm less happy after the game against Atletico because it wasn't good, losing a derby is never a good thing," he said.
Comfortable
"We need to react quickly, both in terms of our performance and results. I have confidence in the players that they will respond well. It is a question of spirit and attitude."
After three years of counter-attacking football under the leadership of Jose Mourinho, Real appear to be struggling to adapt to Ancelotti's possession-based play, but the former Chelsea coach insists his new side simply need time to adjust.
"We can do more," he added. "We are not comfortable in possession at the minute and we have lost some of our defensive balance. Right now we are not winning the ball back well enough, but it is still very early."
However, on the continent, Madrid have taken an early advantage in Group B of the Champions League after their 6-1 hammering of Galatasaray, allied to Juventus' 1-1 draw with Copenhagen, and Ancelotti expects his side to build on their strong European start when they face the Danish champions on Wednesday.
He said: "They have had the same system and coach for a while. We know they haven't had a great start in the league, but they drew against Juventus so we have to be alert."