Barcelona's Lionel Messi will only resume playing after hamstring injury when he feels ready
Barcelona star Lionel Messi says he will not rush his return from a hamstring injury.
Last Updated: 18/11/13 8:23pm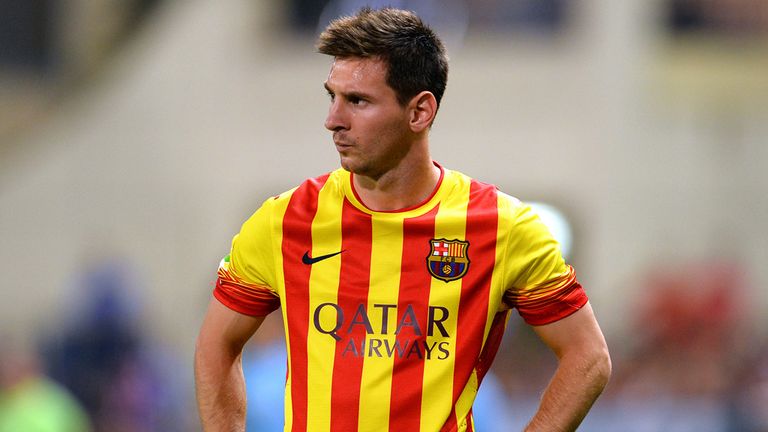 The 26-year-old was ruled out for up to two months after suffering another hamstring problem during the victory against Real Betis on 10 November.
Barca team-mate Cesc Fabregas, who experienced similar problems while at Arsenal, has urged the Argentina forward to have patience as he attempts to get back to full fitness.
Messi told Argentine newspaper Diario Ole: "The plan is to resume playing when the body tells me I'm fine."
There were rumours that Messi had changed his diet, which could have been a contributing factor to his run of injuries.
But he put the record straight, saying: "(That is) not true. My diet is the same as ever. A lot of things have been made up.
"I do the same as always. And I started the pre-season with my ideal weight to reach the end feeling good. Nothing changes."
Messi dismissed suggestions that his injury was a result of playing too many matches for Barcelona and admitted he is happy with coach Gerardo Martino's rotation policy.
He said: "It's not good to pick up an injury, but I wouldn't have done anything differently.
"I'm not the only player who plays a lot of games in a season. Everyone playing in La Liga does the same.
"As long as I feel okay, I'll play whenever necessary.
"I have no reason to place limits on myself. I know that when the coach wants to take me off, he'll replace me and there's no problem with that."
Meanwhile, Barcelona have confirmed that Fabregas has returned to training following the knee injury he suffered against Betis.
Fabregas was forced out of Spain's squad for the friendlies against Equatorial Guinea and South Africa, while team-mates Gerard Pique and Jordi Alba are continuing their recoveries from injury.