Gerardo Martino praised Andres Iniesta after Barcelona's 4-0 victory over Granada
Gerardo Martino was delighted with his under-strength team's performance in Saturday's 4-0 victory over Granada.
Last Updated: 24/11/13 1:17pm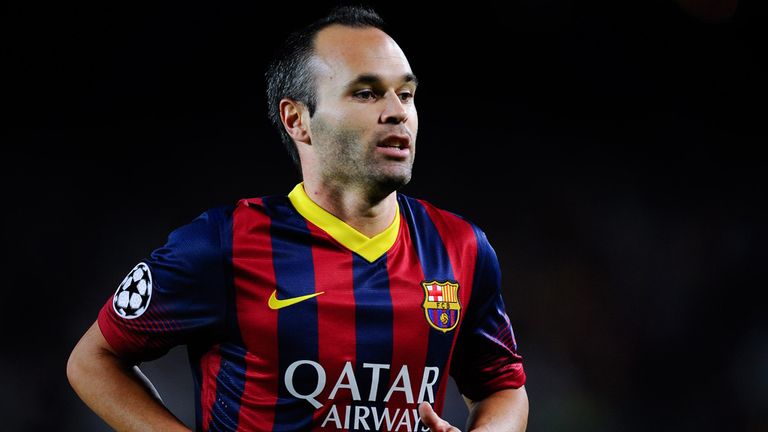 The Catalan club headed into the game decimated by injuries, with Victor Valdes, Dani Alves and Xavi having recently joined Lionel Messi, Jordi Alba, Jonathan Dos Santos, Ibrahim Afellay and Cristian Tello on the sidelines.
However, two first-half penalties, from Iniesta and Cesc Fabregas, set the Primera Division champions on their way and Alexis Sanchez put the result beyond doubt 19 minutes from time - soon after the visitors had lost midfielder Manuel Iturra to a red card.
Pedro added a fourth in the final minute to complete the rout as Barca consolidated top spot in La Liga - and left Martino a happy man.
"We controlled the pace of the game, knowing when we had to play more directly and when we had to slow the match down," he said at his post-match press conference.
"This side know how to play in different ways when they need to. We have a commitment to play attractive football and I think the fans enjoyed themselves.
"Granada want to play the ball around and if you don't press these teams well, you can have problems.
"Iniesta was the best player on the pitch today. He did everything well."
Fabregas won the first penalty, converted by Iniesta, and Iniesta won the second, which was despatched by Fabregas.
"I don't tell the players before who should take the penalty," Martino said. "The players can solve it on the pitch. I just ask them not to put on a show."
Jose Pinto was assured between the posts with first-choice goalkeeper Valdes sidelined due to a calf injury.
"Pinto played a good game," Martino said. "You can see he has experience. He's always responded well when he's had to play. He faced two dangerous situations and he dealt with them perfectly."
Young defender Marc Bartra - one of seven players in the starting line-up to have come through the club's academy - knew the absentee list could not be used an excuse for dropping points.
"Tata told us, despite the players out, we had to push on," he said on www.fcbarcelona.cat. "We were really good. We were in control throughout."
Martino added of Bartra: "I don't like to claim responsibility for a player's progress. If Bartra plays good, that's simply because he is good."
With the points in the bag at 3-0 up, the Barca boss handed a first-team debut to 17-year-old Adama Traore in place of Neymar with seven minutes left.
"I'm really happy for him," 22-year-old Bartra said. "It shows that the Barca academy is the best in the world."