Lionel Messi says he plans to finish his career at Barcelona after scoring twice on his comeback
Lionel Messi plans to finish his career at Barcelona after marking his return to action with two goals against Getafe.
Last Updated: 10/01/14 7:21am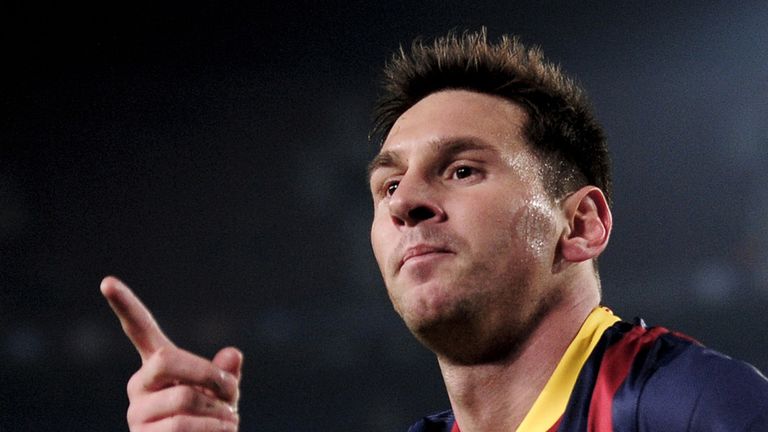 The Argentinian returned to Barca last week after completing the last stages of his recovery from a thigh operation in his homeland.
And he was back in action on Wednesday night, replacing Andres Iniesta in the 64th minute before finding the net twice in his side's 4-0 first-leg victory.
While the 26-year-old is synonymous with Barca, having joined the club in 2000, he has been linked with Paris Saint-Germain.
However, he was unequivocal with regard to his future, saying: "I would like to finish my career at Barcelona."
Wednesday night's match was his first since he injured his hamstring in early November and he was pleased with his progress.
He said: "I took a long time away, I felt very well in training and I'm slowly feeling better.
"I went to Argentina with the intention of returning here at the beginning of the year and returning slowly to the team.
"I felt good physically, I didn't feel any pain in the hamstring. I was very happy to be in my country. I worked well to get out of this. Now I'm looking forward to a great year."
Barcelona's next game sees them pitted against Atletico Madrid, second in the Primera Division on goal difference.
Messi was unsure of the extent of his involvement, saying: "We'll talk to Tata (Martino, Barca coach) and the medical staff to see what is decided for the next game.
"I always want to be on the field. I always want to help my team."
"No one is irreplaceable. I watched the games at home and they were very impressive. Whoever plays in this squad they always respond to the challenge."
Messi did though confirm that he will definitely attend Monday's Ballon d'Or ceremony in Zurich.
For the seventh consecutive year Messi will be amongst the top three for the prize that crowns the world's best player.
However, he insisted that winning for a fifth consecutive year is not top of his priority list.
"I will go, as always. It is a pleasure to be amongst the top three no matter what the result is.
"For me the most important things are the titles you win as a group, but it is always a great compliment to be nominated for what the award represents."