Copa del Rey: Racing Santander banned from next season's competition
Racing Santander have been banned from next season's Copa del Rey after their players refused to play against Sociedad.
Last Updated: 31/01/14 4:03pm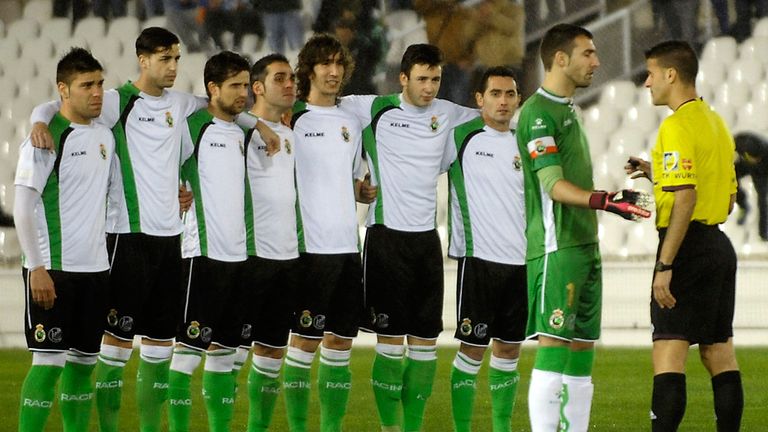 The financially struggling third-tier team, who were also slapped with a fine, announced on Monday they would boycott the game unless club president Angel Lavin and the board resigned.
They formed a line around the centre circle immediately after the match at the Sardinero kicked off and Sociedad played the ball around in their own half for about a minute before the referee brought the game to a halt.
The Spanish soccer federation (RFEF) confirmed on Friday Santander had forfeited the tie, sending Sociedad, who were 3-1 up from last week's first leg in San Sebastian, through to play Barcelona in the semi-finals.
Santander will not be allowed to compete in the 2014-15 Cup competition, the federation added. They did not specify the size of the fine and were not immediately available for comment but local media said it was just over 3,000 euros (£2,460).
The bizarre scenes on Thursday brought the financial difficulties plaguing many debt-ridden Spanish clubs sharply into focus and prompted an outpouring of sympathy for the Santander players and coaching staff.
"Those were the kind of images anyone involved in football never wants to see," Barcelona coach Gerardo Martino told a news conference on Friday.
"It is hard to take in and just makes you want to support the players and coaching staff working there," he added.
"It's normal that when you work, you are paid for your efforts and that is not happening at Racing.
"In a situation as important as the quarter-finals of the King's Cup with the tie still alive, it was an ugly thing."
Santander, who are in bankruptcy proceedings, were relegated from La Liga at the end of the 2011-12 season after finishing 10 points adrift at the bottom and they dropped straight down into the third tier (Segunda B) at the end of last term.
Lavin and the rest of the board were voted out of office at a shareholders' meeting on Friday called by the judge overseeing the bankruptcy proceedings, local media reported.
Former Santander player Juan Antonio Sanudo has taken over, the reports said.