La Liga: Nou Camp revamp vital says Barcelona president Josep Maria Bartomeu
Barcelona president Josep Maria Bartomeu has described the redevelopment of the Nou Camp as "absolutely necessary".
Last Updated: 11/02/14 2:05pm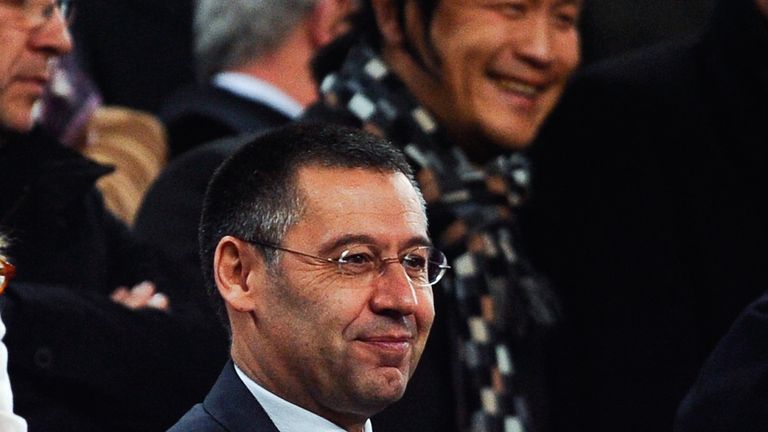 Bartolomeu's predecessor Sandro Rosell announced last month the club will convert the current structure of the Nou Camp into a new 105,000-seater stadium after abandoning plans to build a new ground on land adjacent to the Avinguda Diagonal in L'Hospitalet.
Decisions concerning the preferred external and internal appearances of the remodelled Nou Camp, already the largest ground in Europe with a capacity of 99,354, will be made at a referendum to be held on either April 5 or 6.
The budget for the new 'Espai Barca' project is 600million euros (£496m), with construction work set to begin in May 2017 and conclude in February 2021.
Bartomeu revealed estimated maintenance costs for the Nou Camp through to 2021 would hit 56m euros (£46.5m) and said that, despite concerns over funding for the redevelopment, "the Espai Barca is economically viable and absolutely necessary".
He added on the club's website: "The Espai Barca is an ambitious project. It's a club project, not the board of directors'.
"Anyone in our position would do this, I'd even venture to say that we're a bit late in starting the process."
The other news to come out of Monday's meeting of Barca's board of directors was the restructuring of the board, with Manel Arroyo elected as a fifth vice-president with responsibility for media and communications.
The position of spokesperson will be retired as a result, with incumbent Toni Freixa instead presiding over the club's discipline committee in addition to his role as board secretary.
Javier Bordas, the club's representative to the Spanish Football Federation (RFEF), will also take on responsibility for liaising with other national federations regarding Barca's players.