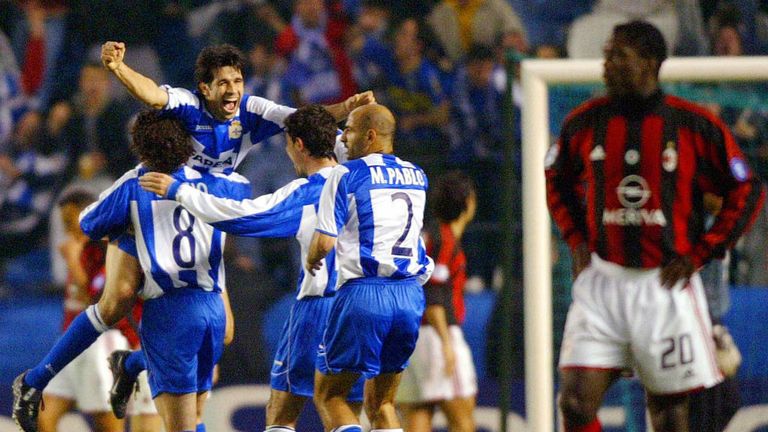 Deportivo La Coruna have sacked coach Fernando Vazquez only six weeks before the new season starts.
Vazquez took charge of the former Primera Division champions towards the end of the 2012-13 season and was unable to save them from relegation, but achieved promotion back to Spain's top flight at the first time of asking.
The Galicians finished second, behind Eibar, in the Segunda Division last term, while Cordoba won the play-off final.
However, Depor have announced on their official website that president Tino Fernandez has decided to relieve Vazquez of his duties, informing the coach of his fate in a meeting held on Tuesday morning.
A statement read: "The Deportivo board has decided to dispense with the services of Fernando Vazquez as first-team coach.
"The lack of confidence from the board towards the coach has led to this decision considering that, with pre-season not yet under way, it is still possible to turn this situation around to generate the atmosphere of confidence necessary in the first-team squad, and in order to develop a sporting and business project that allows Deportivo to be a competitive team, on every level, in the Primera Division.
"Despite the situation that has arisen in these last few days, Deportivo would like to sincerely thank Fernando Vazquez for his work in these difficult times since he arrived at the club."
The statement added that the board had already began the search for Vazquez's successor and hoped to have a new coach in place by the time pre-season starts on July 14.
The fact Vazquez's future was uncertain became apparent last weekend after the coach criticised the club's failure to sign the players they wanted.
He told local television station TVG: "We can't get our first choice, which could be a great buy, so we end up buying option five, six or seven. We either never get them or we don't try and get them, that's our problem."
Vazquez is the second La Liga coach to lose his job in July, with Valencia sacking Juan Antonio Pizzi and replacing him with Nuno Espirito Santo last week.
Shortly after being informed of his sacking, Vazquez sought to give his side of the story, insisting he had been let go by the club because his comments had been "misinterpreted".
He told reporters: "You can only be betrayed by those who you believe to be your friends, your enemies don't betray you. I got the feeling I was being forced out.
"In my mind the arguments put forward do not add up, so I wanted to come out and explain my words. I tried to explain in a colloquial way how transfers work. I wanted to say that we sign the players we can. You will find many coaches making comments similar to that. Only Real Madrid and Barcelona sign the players they want.
"I only said that we didn't have any money, I didn't want to cause the club any harm, not at all. I am leaving the club because of some comments I made that were misinterpreted, nothing more than that."