La Liga: Costa Rica goalkeeper Keylor Navas officially unveiled at Real Madrid
Last Updated: 05/08/14 5:41pm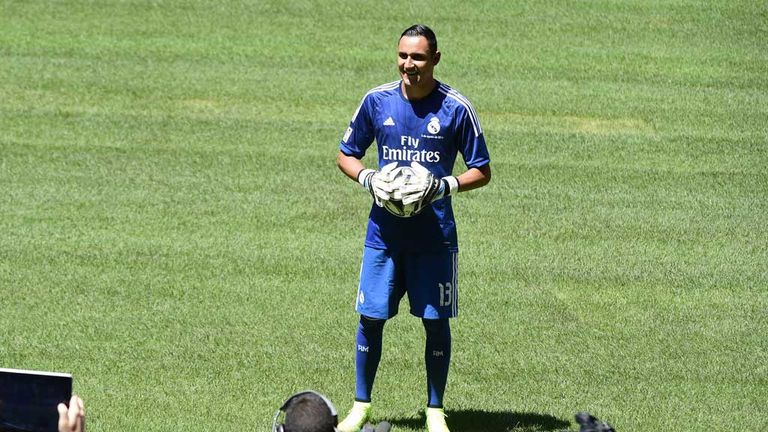 Costa Rica's World Cup hero Keylor Navas admitted he had made his "dream" move after he was officially unveiled at Real Madrid on Tuesday.
The 27-year-old goalkeeper, who leaves Levante after agreeing a six-year deal at the Santiago Bernabeu on Sunday, was a star performer as Costa Rica reached the quarter-finals in Brazil.
Following medical examinations at the Hospital Sanitas La Moraleja earlier on Tuesday, chief of Medical Services Sanitas-Real Madrid, Carlos Diez, told the club's official website: "The player is in perfect condition and is ready to play for the club."
After his medical Navas made his way to the Bernabeu where he signed a contract with the European champions - the capital club have reportedly paid 10million euros (£7.9million) to Levante to activate the keeper's release clause.
Navas was delighted to seal the move and said he was excited over what the future holds at Real.
He said: "I would like to thank God for making this dream come true. This is the most important day of my footballing career to date.
"Thank you Real Madrid, the people of Costa Rica and the Real Madrid fans.
"I am really excited and extremely happy to belong to the most important club in the world.
"I am really proud. It is something I have always dreamed about and I will give it my all in every training session. I hope I will be able to help win loads more titles."
Navas was presented with a replica model of the Bernabeu along with a watch and a shirt with his name and number 13 on the back.
Real president Florentino Perez welcomed the goalkeeper in the presidential box at the stadium with a speech in which he praised Navas saying "your fantastic progress, your talent and your ability to work hard have brought you to Real Madrid".
He added: "We have an excellent squad, but we want to continue growing.
"We work daily to incorporate new talent. We are preparing for a new season after having won the Decima (their 10th European Cup), a cup we wanted badly.
"There are challenges ahead of us like the Super Cup and the Club World Cup. As such we present to you one of the best goalkeepers in the world, a player that has proved to be an outstanding professional and who is now about to undertake the biggest challenge of his playing career.
"Keylor Navas had offers to join some of the world's biggest clubs, but he wanted to play here.
"This will be the first time in history that a Costa Rican has worn this crest. You will wear it with pride and all of Costa Rica will be by your side, as well as all the Real Madrid fans all over the world. Welcome to your home.
"He arrives to us from Levante and I would like to thank that club's president, Francisco Catalan, for the ease with which he made this signing possible.
"Levante is a club we are on friendly terms with. Keylor Navas made the highest number of saves during last season's La Liga campaign. He was one of the stars during the World Cup and was nominated for the Golden Glove.
"His performances were key to his country reaching the quarter-finals of the World Cup for the very first time.
"Your fantastic progress, your talent and your ability to work hard have brought you to Real Madrid.
"These fans will be by your side until your last breath as long as you live by one of this team's core mottos: 'never give up'."