La Liga: Diego Simeone remained silent over his ban after Atletico Madrid draw
Last Updated: 27/08/14 12:38pm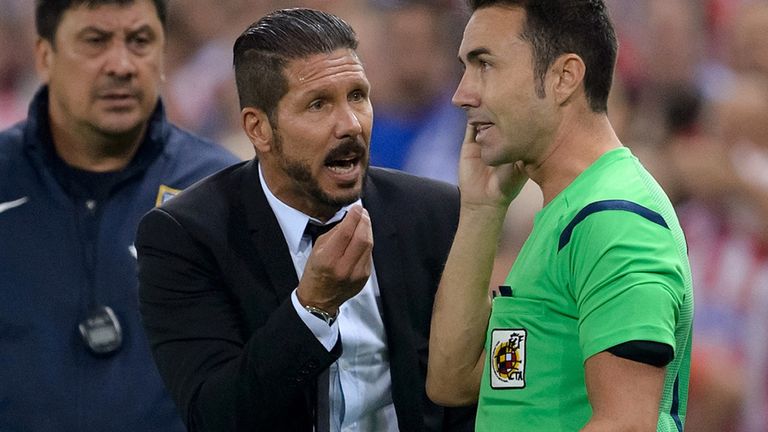 Atletico Madrid coach Diego Simeone has stayed tight-lipped on the subject of his eight-match ban, apart from saying he has "great respect" for the decision-makers in the Spanish game.
Simeone's huge suspension was the combination of four separate punishments handed down by the Spanish Football Federation on Monday after he was sent off during Friday's Spanish Supercopa win over Real Madrid at the Vicente Calderon.
The Argentinian was hit with a four-match ban for tapping the back of the fourth official's head, a two-match suspension for the protests which led to his sending off, plus two one-match bans for sarcastically applauding the official's decision and for remaining in the stands instead of going to the changing rooms after his dismissal.
Asked about the punishment following Atletico's goalless draw at Rayo Vallecano on Monday night, Simeone said: "I'm not going to make any assessment, I have a lot of respect for those who make the decisions, and silence."
Simeone watched on from the stands as Atletico were held by local rivals Rayo in the opening match of their Primera Division title defence.
It was not the ideal way to start the season, but the 44-year-old was quick to credit Rayo and doubts if he had been on the touchline things would have been much different.
He said: "The game was clear. In the first half, we were better, we had three clear chances, and then Rayo improved in the second half, we didn't play against a wall, we played against a team."
He added: "I don't think that having me on the field would've improved anything. We came from playing on Tuesday and Friday and the effort from these days could be felt in the second half."