Song the right note?
Alex Song has become the latest player to leave Arsenal for Barcelona, and Daniel Storey looks at whether the move will be more Alexander Hleb than Cesc Fabregas.
Last Updated: 21/08/12 5:04pm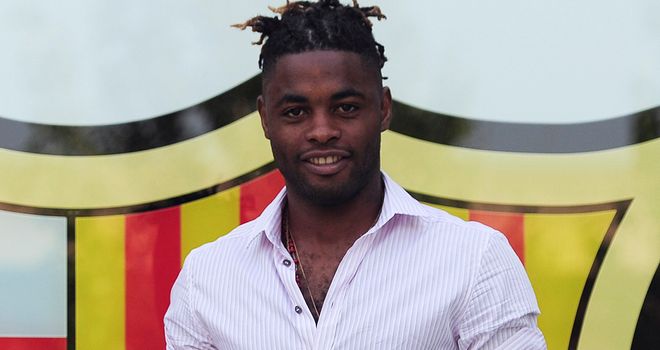 It was a sight that Arsenal fans have grown wearily accustomed to. On Monday, Alex Song was paraded in front of the Spanish media, joining Thierry Henry, Sylvinho, Marc Overmars, Emmanuel Petit, Giovanni van Bronckhorst, Alexander Hleb and, of course, Cesc Fabregas in the move from North London to Catalunya during Arsene Wenger's reign.
The majority of those players before him, however, were glamour signings, but Song is not that player. That is not his intended use. So how does Song fit into the Barcelona set-up? How much first-team action can he expect to enjoy? And does he even have enough ability to mix with the cream of European football?
Firstly, it would be remiss not to mention Song's evident recent improvement. Although Robin van Persie rightly gained significant plaudits for his displays last season and indeed was Arsenal's standout performer, Song also received deserved praise. His 11 assists were bettered by only three players in the Premier League, and an increase of seven from the previous campaign indicated his ability to both step out of Fabregas' shadow and assist Arsene Wenger in coping with the long-term injury to Jack Wilshere.
Despite often performing in central defence during his formative years (particularly during a loan spell at Charlton), Song has recently offered more in terms of attacking creation than defensive stability. Indeed, the ambivalence to the transfer from many Arsenal fans comes from the suspicion that Song's attacking mindset actually left the side's defence exposed at times last season, particularly away from home where Arsenal conceded 32 goals in 19 games, their highest total since 1986.
When in Spain, Song may be expected to quickly curb his offensive enthusiasm. Between Xavi, Andres Iniesta, Fabregas and Thiago Alcantara, Barcelona undoubtedly have the ball-playing midfielder role covered, and it is apparent that Song has initially been purchased as an understudy to Sergio Busquets, operating in a far more reserved role than last season. Discussing the transfer, coach Tito Vilanova remarked: "Busquets can't play every game of the season, so Song will be a great addition."
For Barca, the logic is evident. After winning three Primera Liga titles and two Champions League trophies in three years, the club failed to secure either honour last season, and Vilanova's first remit upon being appointed was to address a lack in squad depth that had hampered the Catalan giants. Whilst Real Madrid dropped just six league points after Christmas, Barcelona dropped double this amount, looking particularly fatigued during their defeat in El Clasico in April. Although Javier Mascherano was signed as a defensive central midfield option, injuries to Eric Abidal, Carles Puyol and Gerard Pique forced the Argentine into a role in the heart of defence, a transformation that is nigh on complete.
Crucial
Busquets played 54 games last season, and has stated his approval of the signing. "Another player in my position would be welcome, but either way I will keep working hard to win a place in the starting team." It will clearly provide the Spain international with the opportunity to receive the rest that is so crucial in avoiding burnout, but he is adamant that Song is not his first-team replacement.
Song's versatility is also a key to the transfer. Although he has operated solely in a midfield role for the last two seasons, Vilanova has already emphasised the importance of the Cameroon player's adaptability: "He can also play in the centre of defence. With him we'll have more alternatives because he can play in three different positions."
Such flexibility is imperative when competing on multiple fronts. Barcelona are the chief exponents of a footballing philosophy that demands fluidity of positioning for success to be assured, and being comfortable in numerous positions at 24 years of age makes Song an immensely attractive option. He will be able to interchange with Mascherano, even on a mid-game basis, and has also presents the ability to push forward when required.
This was also a vital aspect to Fabregas' transfer, who transformed from a central midfielder into a second striker within months of arriving in Spain. In scoring a goal every 222 minutes in La Liga for Barca (a marked improvement on his time at Arsenal), Fabregas papered over the cracks of David Villa's broken leg. Vilanova will expect more of the same from Barcelona's latest addition to the arsenal, if you'll pardon the pun.
Core supporters of the Blaugrana have made it clear that they would prefer graduates from La Masia to be progressed ahead of foreign signings, and Marc Bartra, Sergi Roberto and Javier Espinosa were all potential options. However, as the new (and unproven) coach of an immensely successful club, Vilanova's preference for experience and established quality is understandable. He will be more than aware of the fine margins between success and failure that will equate to a first or second place finish in La Liga, and a title race is not an arena in which risks should be taken.
So how will Song, who demonstrably flourished when provided with a regular starting berth at Arsenal, cope with once again being a lesser-used option? The move does have similarities with that of Emmanuel Petit, who moved to Barcelona in 2000. Again signed for his versatility, Petit was selected sporadically (and generally in central defence) before returning to England disillusioned after just a single season, with only 23 games played in Spain. Former Arsenal midfielder Lassana Diarra's spell at Real Madrid is another that fits that underwhelming bill. Is there a danger of Song becoming a todocampista in Spain, a jack of all trades?
Perhaps, but Song's initial delight at the move probably answers such a question. He is a 24-year-old (Petit was 30 when he joined Barca) midfielder who has been given a chance to play for one of the greats of European football. It may not work out, but nothing ventured, nothing gained and Song will firmly believe that he has the characteristics and credentials to succeed at the Camp Nou. Even if the move turns out to be more Alexander Hleb than Cesc Fabregas, it's difficult to criticise that kind of personal ambition.