La Liga preview
It's usually the dimmer lights of La Liga who say their season starts after Barcelona and Real Madrid, but Valencia are in that category now. Tim Stannard previews the Spanish weekend...
Last Updated: 14/09/12 2:02pm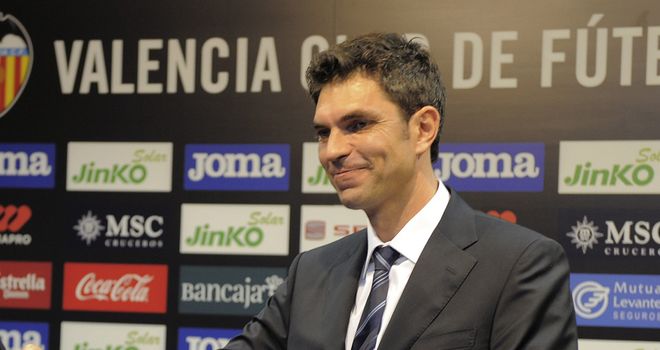 The general message from lowly sides who have started their season playing Real Madrid and Barcelona and have very little to show for it is the notion that "our real season starts here" - another nail in the coffin of the laughable concept of a competitive Primera league in Spain. Indeed things are so unequal and lopsided in la Liga that even mini-big boys Valencia, third-place perennials, can quite rightly repeat the mantra that their campaign has yet to start properly.
This is especially the case at the moment, now that the Mestalla club finds itself fourth-from-bottom with two points from three games, the team's worst start to a season in 13 years.
Normally, that would have the notoriously impatient, trigger happy Valencia supporters chasing the manager out of town. In this case it would be former player and Liverpool trainer, Mauricio Pellegrino - not to be confused with Málaga's Manuel Pellegrini and Espanyol's Mauricio Pocchetino - a manager who was a fair way down a wish-list after the departure of Unai Emery to Spartak Moscow.
However, on this occasion, Valencia do have a bit of an excuse for their rather sorry start. The club's first match was at the Bernabeu against Real Madrid and actually did fairly well, managing a 1-1 draw. It wasn't so positive the week after though, in a clash against Deportivo where the sins of previous seasons were repeated with Valencia managing to utterly balls-up very strong positions with some élan. Three weeks ago, the home side were 3-1 up. Deportivo brought it back to 3-2 and then equalised with a penalty in injury time to spark the first boos from the stands for the season. A trip to the Camp Nou followed and once again, Valencia acquitted themselves reasonably well and were a tad unfortunate to lose 1-0.
With the two toughest games of the campaign out the way, Valencia can begin playing properly and moving back into their familiar third-placed position, currently occupied by Málaga - one third of a trio completed by Mallorca and Rayo Vallecano that were proudly squatting in the Champions League places as la Primera went into its international break.
Barcelona are a fairly familiar figure at the top of the table but are traveling to a ground where they had a traumatic time last season - Getafe. The Coliseum club beat Barca 1-0 in the most recent campaign and repeated the giant-killing feat in August with a victory over Real Madrid.
Rather than being a hot-bed of football passion, Getafe's ground tends to lull opposition into a false sense of security considering the crowd rarely gets into five figures. It's at the point when the visitors begin to nod off when there's a big whack to the head with a mallet and the home team run off with all three points. "Although we may want it, the ball's going to be Barcelona's," predicted Getafe boss, Luis García. "You can't lose any moment of possession, we have to try and pressure them as high up the pitch as possible and try to make them play more direct football."
In contrast, Real Madrid are heading to a stadium that has been a fairly decent hunting ground of late, Sevilla's Sánchez Pizjuán. The last two league meetings have seen two 6-2 wins for the visitors. However, those matches were with happy, chirpy Cristiano Ronaldo in the team, not the brooding, penniless figure in the Real Madrid camp at the moment.
The discussions over of what's getting the Portuguese's goat have failed to die down over the past fortnight, however 'a lack of money' is still the outright favourite, followed by wanting more love from the fans, wanting to be cooler than Iker Casillas and being mad at José Mourinho for a tactical dressing down after the Getafe defeat from the Madrid manager.
The theories being discussed now are whether Ronaldo's rancour will see a slow down in the forwards goal-scoring or if there will be a pouty point-to-prove air about the Manchester City-linked man and a repeat of last year's hat-trick in the same fixture. Sevilla will probably be hoping it's the former.
Round 4 Fixtures
Málaga v Levante - a clash of unlikely European clubs
Valencia v Celta - home defeat and alarm bells a'plenty
Getafe v Barcelona - high ticket prices again = zero crowd
Sevilla v Real Madrid - Madrid to drop two more points
Espanyol v Athletic Bilbao - Pericos still without a point
Granada v Deportivo - erm...
Osasuna v Mallorca - Barça drop points, Mallorca win, Mallorca go top
Real Sociedad v Zaragoza - la Real are top eight possibility this year
Atlético Madrid v Rayo - feisty Madrid derby
Valladolid v Betis - Seville side are most watchable in la Liga at moment.
This article first appeared on F365