Mour credit due
Graham Hunter told Revista De La Liga Real Madrid boss Jose Mourinho has enjoyed a good week.
Last Updated: 25/09/12 7:35pm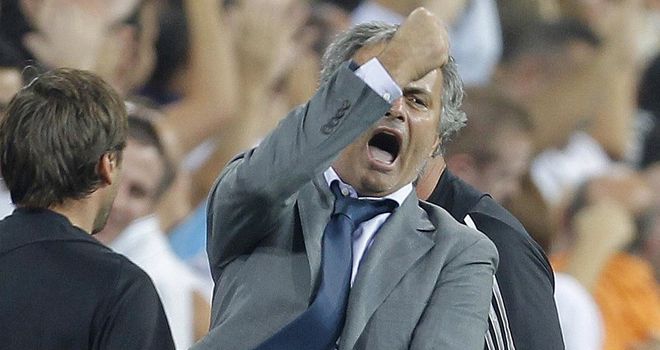 Real Madrid began to erase a poor start to the season with a pair of solid victories in the last week.
Their woeful form in La Liga had seen Barcelona steal the initiative domestically and after defeat to Sevilla, they bagged the perfect tonic with a dramatic 3-2 Champions League win over Premier League kings Manchester City at the Bernabeu.
Star defender Sergio Ramos found himself omitted from the starting line-up for that game having spoken out of turn in the wake of the Sevilla defeat, but the Spain star returned to help Los Blancos to a solid 2-0 victory at Rayo Vallecano on Monday evening.
Hunter said: "I think you have to judge every little action with a manager who's having difficulty in fine-tuning his team.
"When you look at Sergio Ramos, I think he knew his man very well and got it spot on. Ramos is probably the most vocal internal critic and is willing to stand up to Mourinho. There's nothing too harmful about that.
"What Mourinho knows about Ramos is that he'll come out looking to improve - he's not a sulker. I think Mourinho judged well and what he got was a freshly-focused man and you could see how happy the players were."
Momentum
"Also, you look at Karim Benzema getting a goal. He brings him back and the Frenchman scores two crucial goals in two crucial games. I think it's been a very good week for Mourinho.
"I think the victory over City was a bit predictable. It's emblematic of his teams that they don't like to do things the easy way. These are warrior players. In recent years, the Bernabeu Stadium has been a place that has made the players nervous - but the crowd were behind him.
"One of the things that Mourinho hasn't been able to erase is this tendency to 'grandstand' and to entertain. I suspect the coach would like it otherwise but it may be part of the club's DNA - particularly on European nights.
"There's no doubt about it though, that win was a big, big boost for them."
Pressure
Former Mallorca and Newcastle defender Marcelino agreed that Mourinho is turning things around - and emphasised the importance of victory in the rescheduled clash with La Liga minnows Rayo.
He told Revista: "That 11-point difference must have been a pressure for the Real Madrid players.
"Rayo is a difficult place to go. You wouldn't see it as one of the biggest places in the country but it's not easy to win there. Real got the three points and that's the most important thing in the end.
"I think he can manage things his own way. He's experienced enough. Maybe this kind of public statement is what makes the players react and maybe that's what he wanted to do. He's done it in the past and it has worked."
Guillem Balague added: "Mourinho recognised what the problem was, did a press conference and then just sorted it out. On this occasion, he told the press that what they were hearing were things he'd already told his players. It was all part of his strategy.
"If you look at the performance, Real improved."