Fight night
Guillem tells Revista Lionel Messi's spat with David Villa was a result of underlying issues.
Last Updated: 25/09/12 7:35pm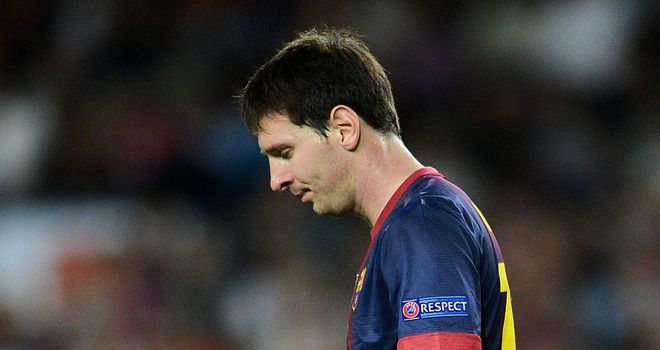 Guillem Balague told Revista that David Villa's on-field spat with Lionel Messi could be a sign the squad feel the Argentine is becoming too big for the team.
With Barca's clash with Granada goalless the World Player of the Year vented his anger at his Spanish team mate for not passing the ball to him in the box. Villa reacted and the pair were caught on camera arguing for some time after the incident.
"Villa has been away for eight months [injured with a broken leg], so they should be patient with him," said Guillem. "But the fact Messi has reacted in that way is a consequence of what we've been saying for months: everything goes through Messi and when it doesn't he gets upset.
"Earlier this season he showed his frustration to three younger players and now he's showing it to a veteran, Villa. What was interesting was the reaction of Javi Mascherano; he didn't go to Messi and say 'come on, the guy's just come back, he might not have made the right decision'. He actually goes to Villa and says 'calm down, leave him alone,' because Messi is the big star.
"But some people in the squad are asking is Messi becoming too big? Is it right that he gets upset if not everything goes through him? They are question marks for the future.
"The other issue is Villa wants to be a striker - although, not the striker. When he arrived he was told he'd play as the number nine but now they play without one and he has to play wide.
"Just before his injury he was thinking maybe now's the time to move on but then the injury came. Maybe now he's back that thought has come back a little bit."
Catalans quiet
Graham Hunter, speaking from Barcelona, told the show that the Catalan media have played down the incident, keen not to cause an upset at the Nou Camp, especially with the side going on to win 2-0 against Granada.
"There's been a real rush by the Catalan media to protect the two of them," he said. "There's been a will among the Catalan media not to rock the boat. The early stages of Tito's reign are going quite well but everyone knows things aren't quite perfect so there's been a club PR-type reaction.
"In the Madrid media they want to know if Messi's ego is changing a little bit, but what I like is that Messi came out afterwards, spoke on Barca TV, was asked whether he'd speak about the incident, said he would and told them: 'look, don't make a problem out of it, we've got no problem'.
"But the Catalan media are not the most rigorous of examiners of these things when things are going well for Barcelona!"
Not uncommon
Marcelino also played down the incident, saying it is not uncommon for players to argue on the pitch, although admitted it was out of character for Messi.
"For me it was surprising to see this attitude in Leo Messi," he said. "He's always been so humble on the pitch, but it says to me it matters to him what happens.
"Being a player I know those things happen all the time. You have to discuss and argue with your team mate or demand a pass. I don't think this instance was a big deal but he never did this in the past so what's the reason for it now?"