In the know
Graham Hunter told Revista that Barcelona are having to deal with better-prepared opposition.
Last Updated: 24/10/12 12:46pm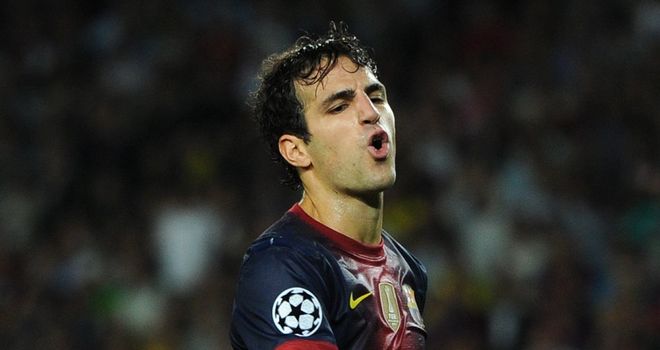 Despite teams knowing what to expect, Barcelona just have too much for their La Liga rivals to deal with, Graham Hunter told Revista de La Liga.
The Catalans had to come from behind to beat Sevilla 3-2 on Saturday, needing a last-gasp David Villa goal to secure three points.
However, Sevilla equipped themselves well and it was only after they were reduced to 10 men on 72 minutes that Barca secured the decisive late double.
"The Catalan press are rallying to the cause and focusing on the positive after that game," said Hunter.
"But they're also reflecting on a series of Barcelona players who, speaking after the Sevilla match, were saying 'it's getting more and more difficult because the opponents have been watching us play like this more or less like this for the last four or five years.
"It's easier for teams to plan against us and it is all on us to move the ball more quickly, take perfect positions, be crisper and fresher and make sure we get everything right'.
"We're in for more of this now, where Barcelona play better football but their opponents, to a degree, have Barcelona worked out."
Room to improve
Former Liverpool assistant manager Pako Ayestaran, however, picked out several areas where Barca could improve.
"This last game told us many things," he said. "Barcelona were able to come from behind for a fourth time this year, which shows us they put it in for every game.
"Secondly it shows they can tinker with their line-up and still get results. But for me, in the beginning of this season, they have had too many players behind the ball. Especially in the first 15-20 minutes of this game there weren't enough players behind the opposition midfield to allow them, when they lose the ball, to be close to the opposition to close them down."
Sevilla fall short
Meanwhile, Guillem Balague told Revista Sevilla boss Michel Gonzalez was proud of his side's efforts.
"He was trying to get everybody's attention away from the referee - who made some controversial decisions," said Guillem.
"He was trying to say 'there are so many positives to take from this game. We took three points from Real Madrid and now we have made Barcelona come back from 2-0 down for the first time since 1999'.
"They made life very difficult for Barcelona, but he said: 'we did a great job but Barcelona were too good'."