All to play for
Roberto Martinez says Real Madrid's draw at the Camp Nou means they can still win this term's La Liga.
Last Updated: 09/10/12 1:44pm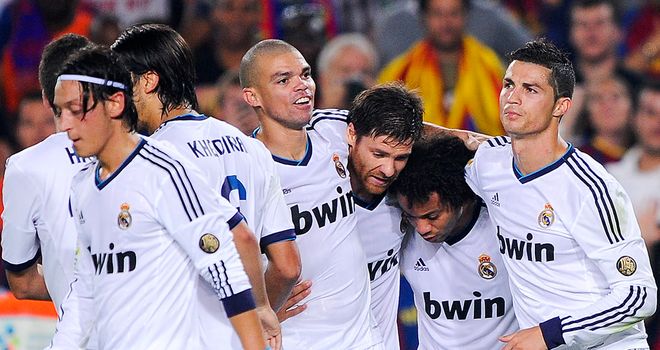 Roberto Martinez reckons Real Madrid's 2-2 draw at the Camp Nou on Sunday evening has kept the La Liga title race alive.
Jose Mourinho's men's pulsating stalemate with Barcelona, which saw Cristiano Ronaldo and Lionel Messi each claim two goals, means they remain eight points behind their illustrious rivals with seven games played.
Wigan manager Martinez feels Los Blancos will gain plenty of heart from containing Barca on their own turf and insists they still have a chance of securing back-to-back La Liga crowns - but he still thinks Tito Vilanova's charges will be very difficult to conquer.
"Real wanted to win the game but that draw is a very important result in their season and means they are still allowed to compete for the title," Martinez told Sky Sports.
"This Barcelona side has got a lot of experience with old heads like Xavi and Andres Iniesta and they would never have let a gap of 11 points go, so losing would have been the league over for Madrid.
"But Real showed that they can compete with this Barcelona team, so you would expect them to have confidence and a gap of eight points is now nothing with the amount of points still to play for.
"However, this Barcelona side is as good as you can get and they now know when to use and when not to use the all the tactical possibilities that they have tried to evolve over the last couple of seasons. They are a special side and I can't see many sides around the world being able to beat them this year."
Maturity
Martinez says Barcelona's recovery from a goal down at the weekend shows they have the "winning mentality" to regain the Spanish top-flight title.
But the former Swansea boss was also impressed by Real's high-intensity approach and unwavering desire to take the three points.
"I don't think we saw the best level of Barcelona but when they were on the ropes they showed maturity and that winning mentality and never got exposed," added Martinez.
"And in the second half we saw the typical Barcelona; they kept the ball well and you felt that if they needed to win the game they would have found a way to do that.
"We have also seen the potential of Real Madrid. They controlled the game after going 1-0 up and gave a great impression that they want to win this league; the first 30 minutes was as good as we've seen Real play at the Nou Camp.
"The first Messi goal was soft but Real's reaction was great and they never looked away from winning the game. It was great to see Real keep pressing high up and upsetting Barcelona's possession and it led to an entertaining affair.
"It was refreshing in modern football to see two teams that base their game on attacking football and that is a good example for everyone, from the younger generation to every other team in the world.
"The fans want to see entertainment and excitement and we have probably seen two of the best individuals in the last generation in Messi and Ronaldo - but I wouldn't like to make the call of who will win the Ballon d'Or!"
Sign in here to watch highlights of Barcelona v Real Madrid.