Pep Guardiola is being forgotten because Tito Vilanova is doing so well, says Marcelino
Tito Vilanova has stepped out of the shadow of Pep Guardiola, Marcelino told Revista de La Liga.
Last Updated: 04/12/12 7:08pm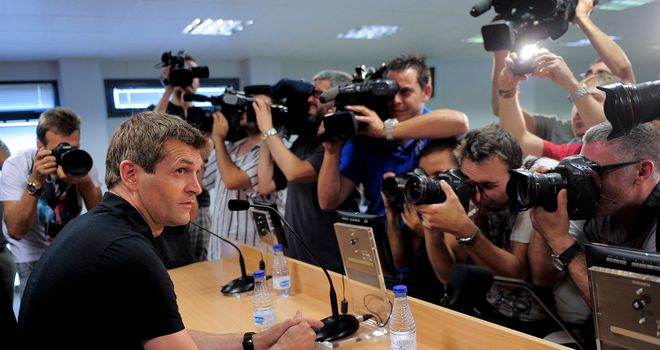 The Catalan giants' 5-1 win at home to Athletic Bilbao at the weekend took their tally to 40 points from the first 14 games of the season - a start no team in La Liga history has ever matched.
Former Mallorca and Newcastle centre-back Marcelino was hugely impressed with the performance and believes Vilanova has been so successful people are already forgetting about his predecessor, Guardiola, who led the side to three La Liga titles and two Champions League crowns.
"The main achievement of Vilanova is that he's made Guardiola be forgotten," said Marcelino.
"Everyone expected Guardiola would be remembered. I don't think anyone expected [Barcelona to start so well under Vilanova]. He's broken a record that has been there for many years.
"Not even Vilanova himself would have expected to do so well and I'm very happy for him and the Barcelona fans as well."
Art
Guillem Balague also praised the La Liga leaders' performance against Bilbao and said the Spanish media were heaping praise on the display.
"The win over Bilbao is being considered as the first work of art of the Tito era," he said. "And fair enough.
"The pressure was constantly high, Xavi, (Andres) Iniesta and Cesc (Fabregas) showed they could play together, with Iniesta wide of the attack.
"(Gerard) Pique showed how he can build from the back - and that certainly helps - while even the full-backs - Adriano, this time - are scoring.
"In fact, one in three goals scored by Barcelona are scored by full-backs so far this season and there have been 14 players who have scored in this campaign. The whole thing seems to be working."
Balague, though, uttered some words of caution and said the quality of the opposition must be called into question.
"However, I'll just include a 'but' to be controversial," he said. "But what was the score when Bilbao went to Real Madrid? 5-1. And nobody talked about that as a work of art.
"Bilbao were so embarrassing: their man marking was all over the place, they were defending like children and they weren't committed to getting something out of it."
Best
Lionel Messi's quality cannot be called into question, though.
The prolific Argentina forward netted twice against Bilbao to extend his record for 2012 to 84 goals for club and country - and, according to Marcelino, he is a certainty for the Ballon d'Or.
"You have to go for the obvious, which is Lionel Messi as we are talking about football and football is about goals," he said when weighing up the contenders, whomh also include Andres Iniesta and Cristiano Ronaldo.
"Goals are what matter and Messi scores more goals than anyone else in the world. He is the best player in the best team."