Graham Hunter, Guillem Balague, Alan McInally and Didi Hamann assess Pep Guardiola's switch to Bayern Munich
Pep Guardiola will end his football hiatus in July by taking charge of Bayern Munich. Read below for our experts' thoughts on why the ex-Barcelona chief plumped for Germany - and rejected Chelsea...
Last Updated: 17/01/13 3:00pm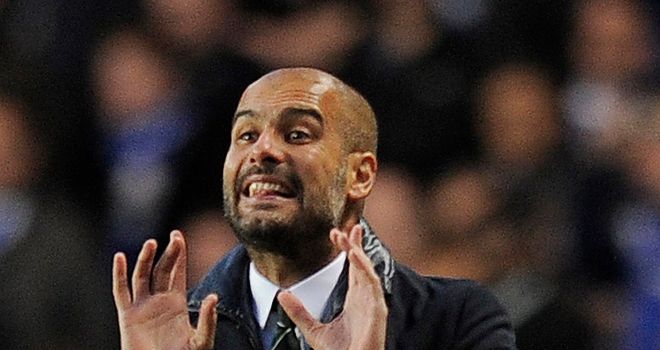 "It is no surprise that Bayern Munich have attracted Pep Guardiola; Bayern represent attention to detail, the quest for excellence, and the idea that they thoroughly want to bring through world-class talents from their own football nursery, and while they're not as expert at it as Barcelona are at the moment, they have shown an ability to do that. Guardiola is obsessed by being obsessive; it's about preparation, about training, about people who are disciplined in their work and Bayern Munich attempt to represent that at all levels; there's a huge identity to the club.
"You think about how often Guardiola spoke about the Catalan identity of Barcelona and doing something that wasn't simply Spanish but that represented his region; Munich have the same feeling with Bavaria and are referred to as a Bavarian club as much as they are a German club. You can start to mesh these points together and compare the experience Pep expects to get at the Allianz Arena to what he had for four years as a senior coach at Barcelona and a year as a junior coach; there are many things that make this a logical choice for Guardiola.
"Roman Abramovich offered Guardiola a great salary to take over at Chelsea, but he didn't believe in their football structure and didn't think their decision-making processes would allow him to work in a way in which he felt most confident, and I think he is right to think that; buying and selling players and sacking managers has won Chelsea lots of trophies but it's not the Guardiola way - and that's why they failed to get him. People who don't know Pep well will say it is easy to reject a high salary and go to a club you want to go to when you are already very rich, but he would have made this decision even if he didn't have seven figures resting in his account in Manhattan."
Guillem Balague - Spanish-football journalist and Revista pundit
"It became clear about six months ago that Pep was not going to last the whole year not working, so he needed to have a club now so that he could work on the preparation for next season and to analyse the games and what the squad needed. He felt ready for the next challenge and only Bayern Munich and Chelsea could offer him that possibility as other clubs have managers that may stay in their jobs after the summer, but after getting reports from his good friend Raul, who has played at Schalke and said the German league was fantastic and had great atmosphere and organisation, he started to make his mind up.
"Plus, he wanted to move to a club that would virtually guarantee him titles straight away and a set of players that would play to his style and Bayern certainly offers that. This is a different kind of challenge but he can now become a coach with his own vision, and not develop the Barcelona vision somewhere else. I don't expect Pep to take any Barcelona players with him as he wants to go back to the Camp Nou in some capacity at some point; Bayern tend to buy the best young players from Germany and weaken the opposition and I think they will continue to do that under Pep."
Alan McInally - Sky Sports pundit and ex-Bayern Munich striker
"Bayern, who probably should have been champions of Europe last year, have a vision, and have done for some time, about getting to the top and staying there, and so to get Guardiola - who everybody in the footballing world wanted as their next coach - is wonderful for the club. For 10 years, Bayern have had the best youth set-up in Germany, if not Europe and the under-14 squad play the same way and have the same ethos as the senior team.
"Guardiola, who has done so much with young players at Barca, will have free rein with the process, while he'll also be given a massive say on which players he wants to bring in. He will have money, too, because Bayern are very, very wealthy on a world scale. Guardiola will probably be taking charge of the German champions when he joins in July and he will be looking to do even better - though there will be more pressure on the club with him as manager."
Dietmar Hamann - ex-Bayern Munich midfielder
"Guardiola was the most sought after manager in world football and for him to choose Bayern over some of the biggest teams in the world is a major statement, not only for Bayern Munich but also for the Bundesliga. The Bundesliga and the German national team have grown in strength over the last five, six years; there were seven German clubs involved in European competition this season, and all seven reached the knockout stages.
"The league and German football as a whole is clearly on the up and for Bayern Munich to secure the services of Guardiola is a major coup. He's got a fantastic CV, he made Barcelona near enough unbeatable over the last five or six years - but he has to prove it all again now in a foreign country. He's not managed outside of Spain so far and the language could be an issue, but apart from that I don't see any problems really because Bayern Munich have a fantastic squad, they've been in two Champions League finals in the last three years, they're going very well in the league this season and they've got a squad not far away from Barcelona and Real Madrid."